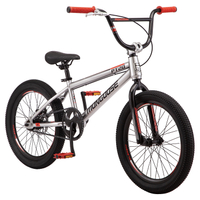 Mongoose PT20 BMX bike, save over $40 at Walmart
Was $178.00, now $134.84
When the pump track and skate park are calling this bargain BMX will have you covered. 20-inch wheels make it a good fit for riders up to 60 inches tall. And it comes with a disc brake.
As kids transition from balance bikes to having a gear and turning cranks, the next upgrade is moving to one of the best BMX bikes for kids.
To gain confidence, develop riding skills and mature in their cycling a BMX is the best choice for many youngsters. But what should you be buying?
The best BMX bikes on the market are diverse, with trick bikes, racing frames and street designs. With so many segments and models, buying your kid the correct BMX can be daunting, as no parent wishes to deliver an unhappy riding experience on their child.
We have compiled a wide-ranging list of the best BMX bikes for kids to aid you in finding the perfect ride for your young ripper.
Best BMX bikes for kids
Why trust BikePerfect Our cycling experts have decades of testing experience. We'll always share our unbiased opinions on bikes and gear. Find out more about how we test.
Mongoose is a legendary name in both street and race BMXing. The Wisconsin brand has an immense history of achievement in BMX design and its Legion L18 is a great way into BMX riding for kids.
The high-tensile steel frame is built with geometry to suit riders between 3ft 8in and 4ft 8in, with a 16.9in top tube length. This is an agile BMX, well purposed for street riding, with large volume tires to increase grip levels and boost ride comfort, especially when kids are boosting off drops and landing on flat surfaces.
Rolling 2.3in tires on 28h rims, the Mongoose Legion L18 offers adequate grip and cushioning for impacts. The steel handlebar is 660mm wide and is clamped into position by a 40mm length stem, which should give excellent steering leverage to young riders.
GT was built on the surge in BMX popularity during the late 1970s and early 1980s. Today, the company remains committed to its roots and besides mountain bikes, it still markets a significant range of BMXs.
With the Lil Performer 18in, GT offers undeniable street style and performance, for young BMX riders. Models specific down- and top tube graphics give the Lil Performer outstanding presence and beyond its styling, there are all the build features you would expect on GT BMX.
The frame and fork are both constructed from high-strength steel, whilst the Lil Performer's geometry has a 16.5in top tube.
GT has selected a wheelset for the Lil Performer which combines rolling efficiency with strength. The rims are laced with 20-spokes and shod with 2.1in width tires, sure to enable any young rider with great confidence, no matter what the caliber of street or brick surface is they are learning on.
Sunday market some great pro-level street BMX bikes, but the brand also offers value models for younger riders.
With its Blueprint 16in, Sunday delivers excellent adjustability. Both the brake lever and saddle are adjustable, which should allow this BMX to remain relevant and ergonomically comfortable for a growing young rider.
The Blueprint 16in has a 15.5in top tube, which should be comfortable for most junior riders, and it rolls 2.1in width Sunday Current tires. With its right red frame and retro white graphics, the Sunday Blueprint has a stylish presence too, which is often an underappreciated, but crucial, aspect of junior street BMX ownership.
Although it might roll the popular 16in junior BMX rider wheel size, this Haro Downtown is a bike for talented riders. The steel frame is steered by a fork with tapered legs and Haro's specified overbuilt wheels for its Downtown.
At both the front and rear axle, there are 36-spoke aluminum wheels, shod with 2.25in width Kenda tires. The result is a dramatically strong wheelset, which is sure to resist significant abuse concerning drops and lands onto tarred surfaces and pavements.
Driving the Haro Downtown along is a three-piece crankset and stopping it is a Tektro 990-series U-brake, actuating the rear wheel. The long 16.4in top tube aids stability and will be most appropriate in size, for slightly taller riders in the junior age category.
If combining style and function are important to the junior BMX rider in your house, this Fit is the business. With its royal blue frame, polished crank and handlebars, it has oodles of street BMX presence.
The tanwall tires and similarly colored seat add warmer hues to the overall Fit Misfit colorway. Rolling 20-spoke wheels, this Fit is not built for extreme drops and landings, but with its adequately sized 2.25in tires, it should deliver excellent street surface grip and agile responses.
Braking is actuated via a linear cable, triggered by an Odyssey Springfield lever. If appearance is everything to your young rider, this is certainly the BMX best suited to their dreams.
BMX purists believe that steel is the only true frame material, given its durability and ease of repair, if damaged. But if you want a compact BMX that is terrifically light, this lurid yellow Redline is a very apt alloy alternative.
Unlike all other bikes on our list, the Redline has an aluminum frame, which gives it a low mass and more agile responses.
The top tube is 16.5in long and Redline's Proline Micro is rated for rides up to 4ft 4in in size. Rolling resistance is very low too, with those 18-inch alloy rims wrapped in relatively narrow 1in wide Vee tires.
Best BMX bikes for kids: what you need to know
1. Cranks
All BMXs are single speed and therefore cranksets play a crucial part in balancing rider weight, to control the bike's speed and agility.
You would ideally want a three-piece crankset, which has sperate crank arms, spindle and bearing races. The result is that individual components that comprise a three-piece crankset are individually stronger, forged from better materials.
A single-piece crankset is cheap for a reason, as it often compromises in terms of metal quality and the bearings that spin it.
2. Steel versus aluminum
Chromoly has always been the most popular material for BMX frames. Even at the time when road and mountain bikes rapidly converted to aluminum, BMX followers remained resolute in their preference for steel.
Impact resistance is one of the most coveted characteristics of a steel BMX frame. The more adventurous your street riding becomes, risking larger drops and curb impacts, the greater a likelihood of crash damage.
Steel is more resilient to crash damage and deformation than aluminum, which does not have the same ability to absorb riding errors of judgment and return to form. If you do have a significant impact crash with a steel BMX frame, a skilled welder can easily repair it – whereas an aluminum frame is much more challenging, and costly, to fix.
3. More spokes or less?
Most BMXs for kids are in the 16in or 18in wheel size. The compact diameter of those BMX rims make for inherently strong wheelsets, but what about the number of spokes?
Your choice of spoke count will vary between lightweight street wheels with 20h rims, and much stronger 32- or 36h rims for landing tricks. The logic at play here is simple: more spokes equal greater strength, creating a wheel that should remain true for longer, especially when riding big drops.
More spokes also add rotational weight, which will decrease wheel acceleration. If you want a very responsive BMX, fewer spokes are better. Conversely, if riding the most challenging street features, and mastering tricks are what your kid is into, a greater spoke count will prevent having to straighten their wheels every few weeks.