We live in an age where everything - even mountain biking - is recorded and shared. Plenty of riders own one of the best MTB action cameras, even if mountain biking might serve as your escape from a device-saturated word.
In 2004, a young entrepreneur named Nick Woodman managed to produce a robust (if rudimentary) little action camera that was small enough to attach to handlebars. That camera was the original GoPro, and ever since we have been boring (and occasionally thrilling) friends with footage of our singletrack exploits and mishaps.
Action cameras have mirrored all other digital device technologies by evolving with impressive speed. Since the original GoPro, there have been nine iterations, and the market for MTB action cameras is now wonderfully diverse, with many options.
There is no better way to learn a new trail before riding it than meticulously replaying somebody else's footage. For coaches and riders wishing to improve their cornering and technical riding posture, footage of you doing it wrong is a lot stronger evidence for correction than some cursory words of advice.
Continue reading to see our list of the top MTB action cameras on the market and our buying advice to find the perfect MTB action camera for your riding needs.
Best MTB action cameras
GoPro's product development people have analyzed their customers and know exactly which features are useful – or superfluous. Their latest action camera, the Hero9 Black, addresses all the issues you could possibly encounter with a mountain bike action camera.
It won't render unusable footage in tricky forest lighting conditions, due to its wide dynamic range sensor technology, and its HyperSmooth image stabilization works a miracle on potentially bumpy footage. The display allows you to perfectly frame your point-of-view riding composition on any handlebar mount, and it's brilliantly robust too, with waterproofing up to 10m.
Best of all is the voice commands, which mean you can trigger functions and control the camera whilst on the move – instead of having to dismount and fiddle with gloved hands applied to frustratingly small control surfaces.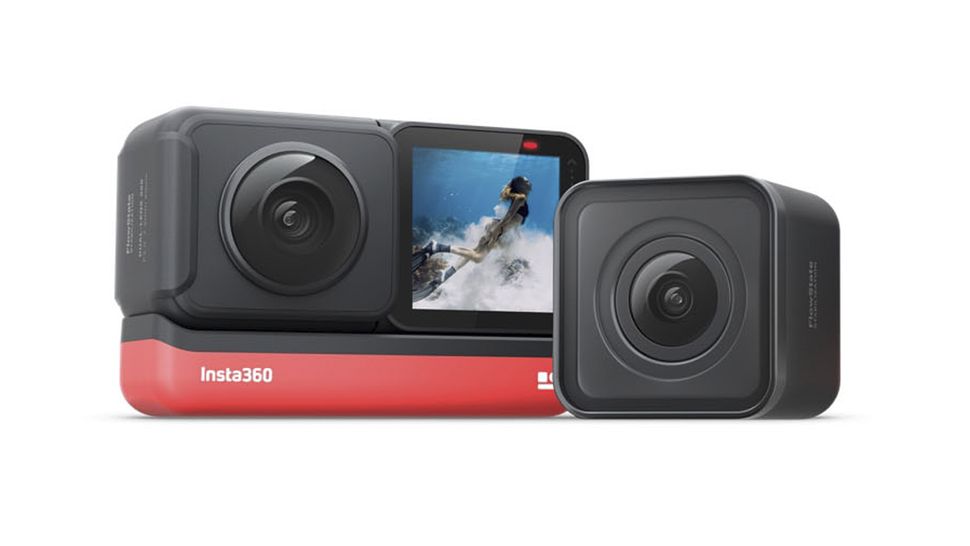 Arguably the most adaptive action camera available is Insta360's One R which uses a modular design to offer users a choice of lenses to suit shooting requirements. Insta360 has three lens options - a 4K wide-angle lens, a 5.7K 360 module and a 5.3k Leica engineered 1-inch sensor unit. Its not just the lenses that can be changed as the modular design gives options for different cases, mounts and bigger batteries for epic days shooting
The One R performance is punchy as well with excellent video quality backed up with thought-out features such as wireless mic support for RODE Wireless GO or Apple Airpods for crisper audio and even the ability to use an Apple Watch as a remote control.
Another action camera that's on par with the GoPro and Drift is the Osmo from DJI. This camera records in 4K at 60fps and includes two integrated screens so you can frame your shot and play it back.
Another impressive feature is the ability to record in 8x slow motion to capture high-speed moments in ultra slow-mo.
At $199, this is a great option if you're on a budget but still wanting to capture quality video and utilize good features. DJI also offers a trade-in program, so customers can get a discount for returning their older generation model. That's only available in the United States and mainland China, though.
The Ghost Drift uses a different design than most action cameras, which sets it apart from the competition. While most cameras look like GoPro clones, the Drift is longer and slimmer. This means it can be mounted on the side of a helmet as well as the top.
The camera packs some impressive specs. It can record in 4K at 30fps or at 1080p at 120fps. A 330-degree rotational lens means that your recording will always be well-oriented no matter how you mount the camera, and the horizon line will always be parallel to the frame.
There's also a dock on the side of the camera so you can attach an LCD screen or a battery pack. The standard battery on the Drift will last three hours when recording, or if you have the battery pack attached, it'll last for five hours.
The Kaiser Baas is another action camera that can shoot at 4K but only at 30fps. The Baas is similar to other cameras at that resolution and price point. As to be expected, it's also on the heavier side.
There is only one screen on the backside of the camera, compared to two screens featured on other cameras. But it still has all of the standard features found on most action cameras, such as mobile app compatibility and video stabilization.
If you're not so worried about video quality, Kaiser also makes other models that are cheaper. For instance, the Baas X250 shoots in 1080p and is cheaper than this X450.
In the world of consumer electronics, we have all come to accept that not all Chinese products are awful. Yi is an enormous Chinese camera manufacturer, and its simply named 4K is a terrific value offering.
As the naming convention indicates, you'll be recording your ride in broadcast quality 4K footage, and to ensure it looks even more professional, there is electronic image stabilization to make those rooty trail sections watchable.
Other standard features include excellent audio (to ensure rider commentary or hub noises are accurately rendered) and voice control. It's nearly as good as a GoPro Hero but for nearly half the price. The only caveat is an absence of weather sealing, which means you'll have to buy a waterproof casing.
The Dutch brand might be more renowned for its navigation technology and devices, but since 2015 it has marketed quite a potent action camera too.
The footage is 4K, but it runs at quite a pedestrian 15fps – which limits your ability to create slow-motion action sequences. This is a pity because TomTom also has an excellent creative app that dovetails with its camera to help ease your editing burden. Special sensors analyze which parts of your ride feature the most impressive action (using bike lean angle, gradient and pressure) and suggest an edit. Very clever.
Battery life is a stupendous three hours too if you are keen on creating some endurance riding edits. Debits? It is splash-proof at best, but certainly not comprehensively weather sealed.
This Welsh product mimics the original GoPro formula of a compact action camera in a separate weatherproof casing.
What is very distinctive about the Olfi is its orientation: it mounts in the portrait view, instead of landscape – which makes sense for a cycling camera. The lens's field of view is a generous 166-degrees and it captures footage via a 16mp Sony sensor, which means that if you want to process still images they should be of very usable quality.
The downsides to the Olfi are its lack of a touchscreen or sophisticated voice commands. But for the price, this remains a compelling 4K action camera. And you can control it via your Smartphone, thanks to WiFi integration with an app.
Sony produces its own sensors, and that means that with the RX0, it markets a compact action camera that dwarfs the image quality of all rivals.
The large 1-inch sensor can capture footage in a manner no competitor can. This Sony action camera will also shoot up to 1000fps, which unlocks an entirely new realm for producing incredible slow-motion action sequences in post-editing software. The RX0 II model features a flip-out display to frame your shot if you want to upgrade.
Its comparatively large sensor also means that high-contrast lighting situations are handled with aplomb. If the price is of no consequence and image quality is all you desire, it must be the Sony.
The Brave 7 action camera can record in 4k, however, it will only be in 30fps. This camera also has two integrated screens for framing shots and reviewing your videos. Included in the box is a remote as well.
For the price, it's impressive that this camera can shoot 4k, even if it's only at 30fps. The other downside is that this camera is definitely heavier than others. At just over $100 though, this is certainly a camera to consider if you're on a budget and don't mind compromising on weight.
The ACT74 is certainly the cheapest camera on this list. At around $60, it's impressive that the camera boasts a 4K resolution at 30fps. And if you record in 1080p, you will get 60fps.
The 2021 version of this camera has most of the standard features you would expect too, including electronic video stabilization.
The downsides are that this camera is heavy and does not have a long battery life. You only get a battery life of 90 minutes, despite a charge time of two to three hours.
If you're looking for a cheap option to test the waters of action camera filming, this could be a good option, just be aware of the tradeoffs.
Best MTB action cameras: everything you need to know
1. Resolution
What are the features and technicalities you need to ponder when considering a new action camera? Unless you plan on watching your footage on a large computer screen or TV monitor, resolution isn't critically important.
You are never going to try and capture a still image from your rolling action cam footage and attempt to print it to A3 wall poster size. At best, you want to view it 4K, but even that is a bit much, as video recording technology leapfrogs ahead of screen capabilities.
However, resolution capabilities on MTB action cameras are getting more and more impressive. Many are now capable of recording at 4K and 60 frames per second, and the GoPro Hero9 Black can even record at 5k and 30 frames per second.
2. Dynamic range
What is more important than pure resolution is dynamic range. This is the ability of a camera sensor to capture the broadest possible detail in a scene, between its brightest and darkest tones.
The human eye has much better dynamic ability than any camera, which is why you can drop from an exposed trail in direct sunlight to gloomy forest singletrack and not struggle to see where you are going. A camera would struggle to have to capture all the detail of a scene in dappled light, with sharp drops of sunlight and deep shadows. For an MTB action camera, dynamic range is crucial – not resolution. You don't need the most pixels, but rather the best ones.
3. Ergonomics
The other issues that really matter with any action camera are ergonomics. Is it easy to attach to your handlebar, chest-mount or helmet? Does it have image calming properties to balance recording when you are being ping-ponged through a rock garden, stabilizing the field of view and capturing footage that is viewable instead of nausea-inducing? And are the buttons and function easy to operate with gloves out on a trail? Perhaps you don't wish to bother with buttons at all, and prefer voice prompting? These are all features that are essential on the best MTB action cameras.
4. Lense type
Most action cameras choose a wide-angle or fisheye lens to capture as much of the scene as possible. Different brands offer different distortions and fields of view so it is worth watching some footage before buying to see if you like the look of the footage. Fisheye has a curved barrel distortion whereas a wide-angle has a linear distortion. The best action cameras will offer different fields of view and distortions to be chosen within the camera so you have options to pick the best suited to what you are filming.
In recent years 360 cameras have made huge leaps forward in quality. These cameras record a full 360-degree scene and allow you to pick and choose your framing and effects in post-processing, while also offering incredible stabilization, which can be a huge advantage when recording high-intensity moments. The disadvantages are that they require a lot of editing as well as computing power and memory as the video files are huge.