We live in an age where everything – even mountain biking – is recorded and shared. Plenty of riders own the best action camera for mountain biking, even if part of the appeal of heading out of town on your mountain bike is to escape from a device-saturated world.
Action cameras have mirrored all other digital device technologies by evolving with impressive speed (and there are plenty of other apps for mountain biking to try out). Since the original GoPro, there have been almost 20 new iterations, and the market for the best action camera for mountain biking is now wonderfully diverse, with many options.
And it's not all just for fun and bragging rights. There's no better way to learn a new trail before riding it than meticulously replaying somebody else's footage.
For coaches and riders wishing to improve their cornering and technical riding posture, video of you doing it wrong is a lot stronger evidence for correction than some cursory words of advice. And for new riders watching how experienced riders tackle all types of mountain bike trail can be handy and inspirational.
We found the best overall was the GoPro Hero11 Black which was packed with a raft of great new features, while the best value-for-money option was its predecessor, the GoPro Hero10 Black which is packed with market-leading bells and whistles and is widely available at a serious discount.
Continue reading to see our list of the best action cameras for mountain biking. Then check out our buying advice at the bottom of the article for some tips on what to look for when it comes to choosing the best option for your riding needs.
Best action cameras for mountain biking
Why trust BikePerfect Our cycling experts have decades of testing experience. We'll always share our unbiased opinions on bikes and gear. Find out more about how we test.
Best overall
As competition to be the best action camera for mountain biking keeps increasing, GoPro has to keep upping its game in order to stay on the top of the pile.
While some releases haven't always lived up to the hype (the less said about the Hero5 series the better) the new Hero11 Black camera is fantastic and brings with it loads of great new features, including improved image stabilization.
At the center of the flagship GoPro Hero11 Black update is a brand-new larger 8:7 ratio sensor. Other than an upgrade in photo quality, the new sensor doesn't bring any improvement in video resolution. What this almost-square 1/1/9-inch sensor does offer, though, are some really useful features.
There's a new Hyperview (141-degree FOV) digital lens and Horizon Lock (up to 2.7K) is built in, rather than needing an extra piece of hardware. Once you've got your footage, you can crop your video to 9:16 for TikTok, 1:1 for Instagram, and 16:9 for YouTube without losing any quality.
A bigger sensor also means improved image stabilization thanks to the latest HyperSmooth 5.0 software, so you'll always be able to focus on the action.
The Hero11 Black looks identical to previous generations (if it ain't broke, don't fix it!) but inside you get GoPro's Enduro battery as standard, which not only increases battery life, but cold-weather performance too.
Best value
The Hero10 might have been bumped off the top spot by its successor, but that doesn't mean this model isn't still a worthwhile consideration.
Its features are rock solid – video quality and Hypersmooth 4.0 image stabilization are still some of the best available – and if you aren't into the 360-horizon-lock look or interested in sharing your video clips across a variety of different social media platforms, then the Hero10 is going to offer you much the same as the Hero11.
You don't get GoPro's new Enduro battery as standard with the Hero10, but it's only a $25 / £25 upgrade if you need the added battery life or cold-weather performance.
As for the price? GoPro currently has the Hero10 listed as $100 / £79 off RRP on their official site. As it's the older, outgoing model you should be able to find plenty of other deals (with as much as $150 / £118 off) elsewhere, which make it incredible value for money. Still, you'd better be quick!
Best for 360-degree shots
If you're looking for the most creative angles or want the ability to reframe your shots after a ride, then opting for a 360-degree action camera is going to open up a whole new world of effects and flexibility.
The Insta360 brand is built around 360 cameras and the latest X3 is its most powerful camera yet. High-quality 5.7K 360 footage captures everything around you which can then be fed into Insta360's smartphone or desktop app for editing and reframing.
'Reframing' can be everything from simply setting the perfect POV angle to wildly distorted perspectives. It's not just the added editing flexibility that makes 360 video a tempting proposition, the X3 has superb stabilization too.
The X3 isn't just about 360 footage either, it can shoot 4K/30fps or in 2.7K/60fps Maxview which gives a huge 170-degree POV.
Another neat trick up its sleeve is Invisible Selfie Stick Mode where the camera edits out its own selfie stick handle.
Bear in mind that working with 360 footage is a bit more complicated than regular action camera footage. Reframing adds another step to the editing process and 5.7K 360 files take up a lot of memory.
The X3 also has a huge battery which, on the plus side, gives it a decent battery life, but does add extra weight when mounting it to a helmet.
For more, see our full Insta360 X3 review.
Best for POV footage
Many riders were dismayed to see the small, ultra-mountable Session camera dropped from GoPro's range. However, this new mini camera – the Hero11 Black Mini – is great news for POV footage fans.
It's slightly larger than the Session, measuring 52.4 x 38 x 51.2mm and weighing 133g – plus it's considerably smaller than a standard GoPro making it easier and less cumbersome to mount and wear.
Despite its compact size, the Hero11 Black Mini packs a serious punch in the spec department. In fact, it has exactly the same processor, sensor, stabilization, and video settings as the Hero11 Black.
You also get a second mounting point on the rear of the camera making it easier to attach under a helmet peak or other tight spaces.
What's the catch? To make the Mini smaller, GoPro has sacrificed both screens, instead opting for a small black-and-white display showing basic information on battery life, modes, and available recording time.
This means framing a shot requires a little more guesswork or involves pairing the Mini to the app and previewing footage through your smartphone.
You also don't get a photo mode (it's video only) and the battery isn't removable. Still, it's a cracking mini camera for POV footage that's waterproof to 33ft.
Best for modular design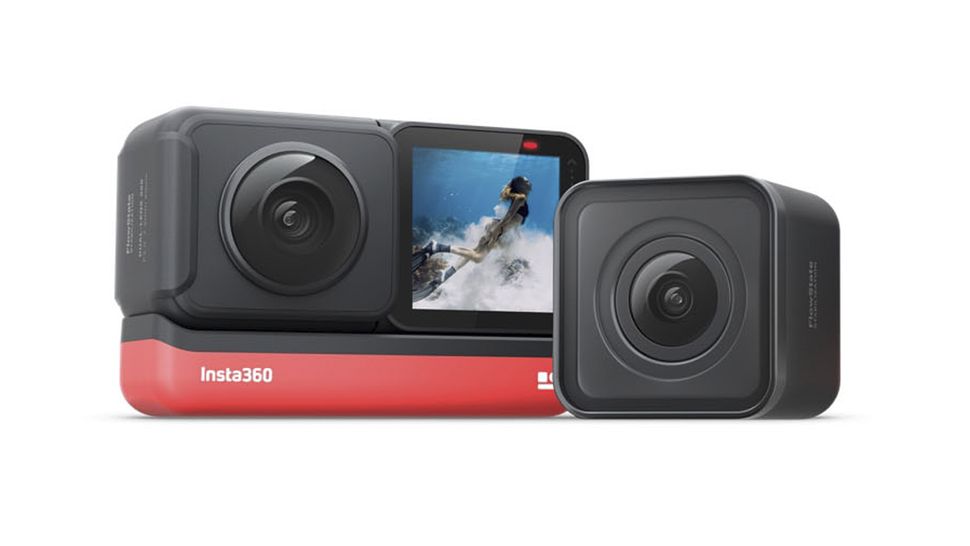 Arguably the most adaptive action camera available is the Insta360 One R which uses a modular design to offer users a choice of lenses to suit their shooting requirements.
The Twin Edition comes with three lens options: a 4k wide-angle lens, a 5.7k 360 module, and a 5.3k Leica-engineered 1-inch sensor unit.
It's not just the lenses that can be changed as the modular design gives a huge range of options for different cases, mounts, and bigger batteries for epic days of shooting.
The One R's performance is punchy too, with excellent video quality backed up with clever features such as wireless mic support for RØDE Wireless GO or Apple AirPods for crisper audio – and even the ability to use an Apple Watch as a remote control.
Best older GoPro
Launched in 2020, the Hero9 Black is now the oldest action camera that GoPro still officially sells and subsequently, it's also one of the cheapest.
As it was once at the helm of GoPro's action camera line up, you get a superbly durable camera that features some great specs. The sensor is the same as the Hero10, and is capable of 5K/30fps video, while it features a slightly older version of GoPro's Hypersmooth image stabilization which is still very good.
Another advantage is it's still compatible with all manner of GoPro's Media Mods if you want a cheaper vlogging setup too.
The Hero9 tends to get regular offers and deals, but unless you can find a great discount, it's hard to recommend it over the Hero11.
Currently, the Hero9 is significantly cheaper than the Hero11 on the official site, so it's well worth getting at that price.
The Go 3 is the latest update of Insta360's mega-popular action camera. It's still super tiny (about the size of your thumb) but now ups recording resolution to 2.7k (1536p) from the Go 2's previous high of 1440p and weighs an extra 9g.
As before, it uses FlowState Stabilization to get rid of shakes, bumps and rolls and 360 Horizon Lock for smooth clear video, also including Time Shift, Slow Motion, PureShot HDR Photo and Timelapse functions to help you get creative in the edit.
As you'd expect, it's a joy to operate – a single press of the front button starts recording – while using Insta360's Voice Control 2.0 means you can keep your hands free for other things like avoiding that shark or cliff edge.
Shooting with the Go 3 on its own gets you 45 minutes of video, plus new improved AI-editing tools meaning tweaking footage on your Android or iOS phone is a lot more straightforward.
But click the Go 3 into the Action Pod – with flip LED touchscreen, remote preview and quick menus – and you get enough power for 170 minutes of shooting.
Even though the Action Pod is only splashproof (with an IPX4 rating), the Go 3 is completely waterproof (down to 16ft) with an IPX8 rating, so is brilliant for capturing underwater footage bursts of up to 45 minutes between charges.
Plenty of fun official accessories (from Dive Case to Fetch Stick) are available on Insta360's site, so you can really get the most out of owning one.
Best for field of view
Unfortunately, DJI released the brand-new Osmo Action 3 at the same time GoPro launched its brilliant Hero11, which was unfortunate timing.
The Osmo Action 3 also isn't able to compete with the Hero11 when it comes to video specs and high-end features. Saying that, this is still a great action camera at a competitive price.
Specifically, the Action 3 has an ace up its sleeve and boasts one of the widest fields of view of any standard (non-360) action camera – a whopping 155 degrees.
This means it fits more in the frame – which is ideal for engaging chest footage – and also features front and rear screens for simple framing.
The footage (up to 4K at 120fps) is good quality too and the EIS stabilization software does a brilliant job of smoothing out vibrations as long as there's good light.
The Action 3 also uses a magnetic mounting system which makes removing and attaching the camera really easy, plus it can be mounted in either landscape or portrait orientations, depending on your needs.
Best 4K on a budget
The Akaso Brave 7 LE has a pretty impressive spec with its front preview and rear touchscreen displays, 4K recording, and built-in stabilization.
While these features compete with the best action cameras for mountain biking, they fall a bit short in terms of performance when compared to the top products from GoPro, Insta360 or DJI.
Where the Brave 7 LE trumps them all is price. It dramatically undercuts all of the big players, as well as Akaso's own Brave 8 too.
This means that if you don't need the best possible image quality, are happy to tolerate a slightly bulky waterproof case – and an occasionally buggy smartphone app – then the Brave 7 LE is going to be the best budget option.
Best ultra-lightweight
This Welsh product mimics the original GoPro formula of a compact action camera in a separate weatherproof casing. The Olfi One.Five's field of view is a generous 166 degrees and it captures footage via a 16Mp Sony sensor, which means that if you want to process still images they should be of very usable quality.
The Olfi One.Five comes with a 64Gb memory card and even includes Free Accidental Damage Cover for the first year for complete peace of mind.
The downsides to the Olfi are its lack of a touchscreen or front-facing display. But for the price, this remains a compelling 4K action camera which is fun to use.
Other useful features include external microphone compatibility and you can control the One.Five via your smartphone, thanks to WiFi integration with an app.
What to look for in the best action camera for mountain biking
What minimum camera resolution should I be looking for?
Unless you plan on watching your footage on a large computer screen or TV monitor, resolution isn't critically important.
You're never going to try and capture a still image from your rolling action cam footage and attempt to print it to an A3-sized wall poster.
At best, you want to view your footage at 4K, but even that's a bit much, as video recording technology leapfrogs ahead of screen capabilities.
However, resolution capabilities on MTB action cameras are getting more and more impressive. Many are now capable of recording in 4K and 60 frames per second, and the GoPro Hero9 and Hero10 Black go even higher.
Why is dynamic range important in an action camera?
Pure resolution isn't everything as dynamic range plays a very important role in producing clear and crisp footage. This is the ability of a camera sensor to capture the broadest possible detail in a scene, between its brightest and darkest tones.
The human eye has much better dynamic ability than any camera, which is why you can drop from an exposed trail in direct sunlight to gloomy forest singletrack and not struggle to see where you're going.
A camera would struggle to capture all the detail of a scene in dappled light, with sharp drops of sunlight and deep shadows.
For a MTB action camera, dynamic range is crucial – not resolution. You don't need the most pixels, but rather the best ones.
What other features and functions should I consider?
There are a range of ergonomic and practical considerations. Is the action camera easy to attach to your handlebar, chest mount or helmet?
Does it have image-stabilizing software, so that when you're ping-ponging through a rock garden, the camera captures footage that's viewable rather than nausea-inducing?
Are the buttons and functions easy to operate while wearing gloves out on a trail?
Perhaps you don't want to bother with buttons at all, and prefer voice control?
These are all features that are essential when it comes to choosing the best action camera for mountain biking.
What are the differences between fisheye, wide-angle and 360 lenses?
Most action cameras choose a wide-angle or fisheye lens to capture as much of the scene as possible.
Different brands offer different distortions and fields of view, so it's worth watching some footage before you buy a certain brand to see if you like the look of it.
Fisheye lenses have a curved barrel distortion whereas wide-angle footage has a linear distortion. The best action cameras will offer different fields of view and distortions so you have options to pick the one best suited to what you're filming.
In recent years, 360 cameras have made huge leaps forward in quality.
These cameras record a full 360-degree scene and allow you to pick and choose your framing and effects in post-processing, while also offering incredible stabilization, which can be a huge advantage when recording high-intensity moments.
Their disadvantages are they require a lot of editing as well as computing power and memory as the video files are huge.