Whether you're buying for a first-time mama who loves to shred, or you've got an amazing mom of your own who defies ageist expectations and takes to the trails, finding the perfect Mother's Day gift for mountain bikers may be a bit of a challenge for some.
Serious mountain bikers spend untold hours poring over every last detail of everything that has anything to do with mountain biking. They study it day and night then they buy it for themselves, so how could you possibly find something they both want and haven't already got? It's a challenge, but we think we can help.
The only people who study mountain biking more is the team here at Bike Perfect. We get a chance to test all the best gear and we've got an understanding of what makes every ride just a little easier, or a little more fun. If you are looking for an idea of what to get a mountain bike rider in your life, then keep reading.
Or maybe you are the mountain biking mom who wants to drop some hints for Mother's Day. Whatever kind of inspiration you need, here you'll find a comprehensive list of Mother's Day gifts for mountain bikers.
Quick Mother's Day gift ideas for cyclists
If none of our ideas below seem right, you might want to have a check what the large online retailers have to offer. Here are the sites where you'll regularly find quality mountain biking products, and which sometimes offer discounts as a bonus.
UK:
USA:
Mother's Day gifts for mountain bikers
Why trust BikePerfect Our cycling experts have decades of testing experience. We'll always share our unbiased opinions on bikes and gear. Find out more about how we test.
Gift hampers for mountain biking moms
After a hard day on the trails, it's important to rest and recover, so what nicer gift can there be for your mountain biking mom, than a recovery hamper or pamper kit? There are plenty out there to choose from, so you're bound to find something your mom will love. Plus, many of them can fit through a mailbox, if you're sending your gift in the mail, and some can even be personalized as well. Here are some of our favorites: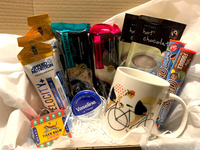 CraftsbyJanStore Cycling Lover Gift | $27.01
Ignore the male-dominated marketing of this hamper, it would do very well for your mountain biking mom as well. The kit includes some gels, flapjacks and chocolates, as well as hot cocoa sachets, Vaseline, Tiger balm and a cycling mug. It's not MTB-specific, but it's a lovely and thoughtful gift that will encourage her to relax a little.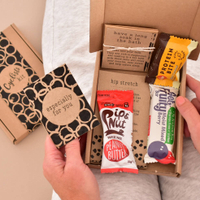 Mrs L Cards 'Cyclists Kit' Letterbox Gift | $28.35
You can add a handwritten personalized message to this letterbox giftset that contains 10 stretches cards, three food or drink items, two sachets of Epsom salts, and a gift card.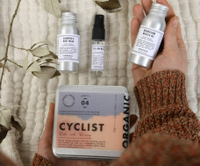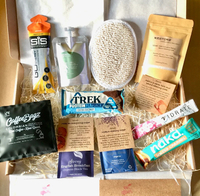 UnboxingRituals Cycling Recovery gift box | starts at $33.44
You can personalize this recovery gift hamper with a hand written message. It comes with bath salts, an electrolyte drink powder, SIS Isotonic Energy gel, a loofah, spa treatment body pouch, a selection of vegan-friendly snacks, a coffee bag, and relaxing and energizing tea bags.
Jewelry and trinket gift ideas
If you're not up for buying her something for her bike, consider something nice that she can wear or display to express her love for all things two-wheeled. There are plenty of makers out there creating bespoke jewelry and trinkets either with bicycle themes, or out of recycled bike parts.
This hand-made copper bracelet is a great place to start, as you can add a personalized message if you wish, and choose the length and width that works best for her. The copper is etched with imagery of bicycles in the woods and mountains, and makes for a subtle but beautiful piece of jewelry that she can wear in any setting.
This sterling silver cassette pendant makes for a beautiful but subtle adornment that doesn't scream 'cyclist', but is niche enough that other two-wheeled enthusiasts will know what it means. At a distance, it looks like an elegant, round silver pendant, so it can blend into almost any situation.
The pendant can be hung on your choice of a brown or camouflage paracord, or a sterling silver chain. All options are adjustable, and the necklace comes with a guarantee certificate and a personalized free gift box.
This delicate and beautiful bracelet with a bicycle emblem also comes with personalizable options, including the number of leaves to be included, and the letters written on them. Spell out her name, 'Mom', or put her first initial. It's sure to make her feel special.
Repair-related ideas
Now for more 'bikey' gift ideas. Anyone who owns a bike has to work on it at some point or another, and good quality tools are always helpful. Tools can make great gifts for mountain bikers, especially if you don't know a lot about they ride and own. It's a gift that's both thoughtful and useful, and as bonus, good tools last a long time so your gift is going to see years of use.
PB Swiss hex wrenches are precision machined and color-coded to easily see what size they are. Perfect for anyone with a bike. They are manufactured to a high tolerance to avoid rounding off bolts and they'll last a lifetime. It's a luxury item that doesn't cost a fortune and even if they already have hex wrenches, these are better.
Anyone who does their own bike maintenance has had the experience of ruining a favorite shirt with grease. Park Tools makes this heavy-duty apron from durable cotton canvas and has pockets for essential tools. It's not an expensive purchase and you don't have to worry about getting the right size making it an easy, and thoughtful, gift.
Park Tools is the standard for high-quality tools and this way you get a complete set. If someone is brand new to bikes this is a great way to make sure they have everything needed for doing their own maintenance. At the same time, if someone is an old hand at working on bikes this replaces all their old, mismatched, tools at once.
There's no faster way to get a bike clean than a pressure washer but not all pressure washers are safe for bikes. Muc-Off makes the products that help dirt, grime, and grease slide right off then packages them with a bike safe pressure washer. This is a neat and tidy package with everything a mountain biker needs to keep a bike clean after a muddy ride.
Everyone needs a floor pump and the Topeak Joe Blow Booster Floor Pump checks all the boxes. It's easy to attach to the valve and secure once it's there. It works as a regular pump to quickly top up tires before every ride and has a pressure chamber too, which makes the chore of seating tubeless tires effortless. It's also one of those products that's sensibly built and doesn't cost more than it needs to.
Off the Bike Ideas
Cyclists of all kinds are picky about their bike-related purchases, and getting the right thing takes some understanding. A different way to approach the problem is to get something that's more of a lifestyle purchase. It's not directly related to the bike but it could be a hit for anyone who rides a bike.
Cycling has long had an association with coffee. Mountain bikers aren't likely to see a coffee shop to stop at in the backcountry but good coffee is no less important. An automated pour-over machine allows for amazing coffee that's fast, inexpensive, and packs well on the drive to the mountains.
There's absolutely nothing that is more important to the taste of a cup of coffee than a good grind. It's a purchase that will far outlast the specific coffee maker and the Baratza Virtuosa plus has enough range in settings that it's flexible for different coffee styles. Dial-in the size wanted then set the timer for the same grind every morning.
Many mountain bikers like to unwind with a brew after a day on the trails, but when they're planning to ride the next day as well, there's nothing worse with feeling hungover in the morning. This is where Pentire comes in. A non-alcoholic spirits company, its two products - Adrift and Seaward - contain coastal botanicals that will leave her feeling refreshed and ready for another day of riding. Non-alcoholic drinks can also be a great gift for a mother who is still breastfeeding as well.
Whether the mom you're buying for is already a seasoned bikepacker or is just starting to feel that spark of curiosity, 'Waymaking' is a book that should empower and inspire her to plan her next big adventure in the great outdoors. This anthology of short stories, poems and artwork by adventurous women, including Sarah Outen and Anna McNuff. Alternatively, you can buy it from Alpkit and the royalties will be donated to the John Muir Trust and Rape Crisis.
It's true that you can never really go wrong with chocolate, but it can be a bit of an unimaginative and impersonal gift. However, The Functional Chocolate Company has developed seven different purposeful and very thoughtful formulas for chocolate bars that will help her along with her mountain biking, as well as taste good. With different ingredients that help to boost sleep, offer an espresso boost of energy, relieve PMS and menopause symptoms, and more, this is a rather unique take on buying someone chocolates.
On the Bike Ideas
If you're picking out a gift for yourself, or you know a mountain biker well, then the right on-the-bike gift is something that's sure to see use. Mountain biking is tough on equipment and there's always a new thing to get. Here's a few ideas that will make for happier rides.
For those that prefer not to carry a backpack, a hip pack is the next best thing. The Rapha Trail Hip Pack uses a durable ripstop nylon fabric that comes from recycled materials. It's got 3 liters of space and two external pockets work for carrying water bottles if your frame doesn't have the room.
Whether or not she's already a night riding convert, give her a boost in light with the Niterider Lumina 1200 Boost. It's built to be bombproof, puts out 1,200 lumens (and if you think that's not enough, you'll be surprised just how bright it is, as our reviewer found out). It has seven modes, including a 'Boost' mode (where it gets its name) which will light up even the darkest, twistiest, sketchiest descents.
To read more about it, check out our Niterider Lumina 1200 Boost review.
Topeak's Ratchet Rocket Lite DX+ might be a little more expensive than many other 'swiss-army' style multi-tools but we think it's worth the extra outlay as the ratchet feature makes it one of the best multi-tools we have ever used. The Ratchet Rocket comes with all the normal tools you need out on the trails, plus as it has a ratchet it can easily get all those hard-to-reach bolts for quick hassle-free adjustments. Topeak does other versions of the Ratchet Rocket too with different tools and even torque gauges.
Check out our full five star review of the Topeak's Ratchet Rocket Lite DX+ for more details.
No one ever wants to be without their multi-tool when it's needed on the trail but space on a mountain bike is at a premium. The OneUp EDC uses the space in the stem/steerer tube to store tools and it's even available in a range of eight colors to perfectly match the bike it's going in.
The EDC tool can be fitted in two ways, there is a threaded version that involves some DIY thread cutting to the steerer or One Up sell a nifty threadless carrier that replaces the star nut and is much easier to fit.
Most mountain bikers will already have a multi-tool, and if they don't check out our best mountain biking multi-tool guide for the best options. However, there are a few functions that are rarely found even on the comprehensive multi-tools. This is where Wolf Tooth's pliers come in, featuring master link pliers, Presta valve core remover, valve stem lock nut wrench, tire levers and a space to store a spare master link.
When it comes to tubeless tire repair options there are a lot of options. Dynaplug is not the cheapest but it works when others fail. In many cases, if it's used quickly the tire won't even need air added. All of the various Dynaplug options work the same but this case means there's leverage to push through a small hole in a heavy mountain bike tire.
Clothing Ideas
Anyone who's ever bought clothes for someone knows it's one of the trickier gifts. It can also be one of the most loved. Choose well and the mountain biker in your life will not only have the clothes that perform best but also look great on the trail. We've grabbed a couple of options that are sure to bring a smile to an avid mountain biker.
Goggle-style sunglasses are absolutely the most on-trend designs right now. The bigger the better and there might not be any that are bigger than the POC Devour glasses. The lenses are easy to swap too. There are lenses that help trail features pop, clear lenses for night riding, and even road-specific lenses so one pair of glasses can do double duty.
It's incredibly freeing to just jump on a bike and hit the trails without feeling like it's an event and Pearl Izumi is the master of dual-natured clothing. The Rove Long Sleeve shirt has a slight drop tail and it wicks like a jersey but it doesn't look out of place off the bike.
The right sock sets a rider's whole mood on the bike. They feel great and they look great. Swiftwick makes all its socks in the US with a focus on using the most sustainable practices possible. What really sets them apart though is just the right amount of compression. Not so much that they are uncomfortable but a little more than usual.
Five Ten is a much loved footwear brand amongst mountain bikers, and these women's specific flat Freerider shoes will go down a treat. They offer superior grip, plenty of cushioning for comfort on the trails, and as an added bonus you can even get them personalized to make them all the more special.
Electronics for the bike
Just like every aspect of modern life, today's cycling is all about electronics. This is the tech that lets the rider track the riding they do, save their memories, show off for friends and family, and even helps them know where to go. As long as you are shopping for a mountain biker who loves gadgets these are tough gifts to mess up so shop with confidence.
The trails have a soundtrack of their own but sometimes it's nice to add to that. With the Shokz OpenRun Pro the bone conduction technology means a rider can still hear everything around them alongside their music. The design also means there's no way these are coming off no matter what the trail brings.
GoPro is the standard when it comes to sharing videos of exploits on the trails. There are accessories for mounting in every possible way and this year saw the Hero 10 get introduced as a small upgrade to the Hero 9. There are no major changes but small upgrades bring better quality and a new version of the Hypersmooth technology that makes footage from the roughest trails look great.
Garmin computers are incredibly capable and feature a range of mountain bike-specific tracking and navigation. The 530 hits the sweet spot of price vs performance and size that makes it a great buy. It still has access to the features you need but the price is lower and it's easier to mount in a more protected location.
If you want to more details, be sure to read our Garmin Edge 530 review.
GoPro, and Insta360, offer full-size action cameras that have every feature imaginable but sometimes that makes things harder. The Go 2 is a tiny camera that lets you shoot quick clips with the press of a button. The video is easier to edit and the small size of the camera makes it super durable plus easy to mount.
The joke is that if it's not on Strava it didn't happen. You don't actually have to pay for Strava to get that experience but giving a gift of Strava does add some extras. The personal heatmap is a great way of finding new places to ride and maybe the most important paid feature is the ability to compare times between Strava followers.