With winter comes short daylight hours and whether you love riding in the dark or simply tolerate it to get the miles in for summer rolling back around, it's time to grab your bike lights.
Having the best mountain bike lights to light up the trail in front of you will make riding in the dark a far more enjoyable experience and Wiggle has an excellent Black Friday deal to ensure you can see where you are going.
Wiggle is currently selling the Exposure Diablo MK13 Front Light in the Black Friday sale for just $180.99 / £149.99, which is a 39% discount for UK shoppers and a 41% discount in the US.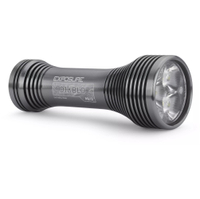 Exposure Diablo MK13 Front Light
US: Was £304.99, now £180.99 at Wiggle
UK: Was £245, now £149.99 at Wiggle

Exposure's Diablo MK13 is a powerful 1900-lumen MTB light for heading out on the trial in the dark. Its Fuel Guage feature should stop you from being left in the dark and the TAP quick control allows you to easily change modes on the go.
Exposure are known for making some of the best mountain bike lights and the Diable packs loads of features within its CNC-engineered aluminum body. The light comes with a helmet mount and a handlebar mount so it can take on trail and commuting duties.
The light can be customized via the Optimised Mode Selector and the TAP Quick Control allows you to easily switch between these modes by simply tapping the body of the light – particularly useful if the light is helmet-mounted.
The Diablo has an internal battery so there aren't any cables to get caught or additional batteries to mount to the bike. The 3500mAh battery takes just four hours to fully charge and will give one to 18 hours of burn time depending on the mode used. If you need more battery life then the Smart Port Technology allows an additional battery to be connected. Wiggle currently has deals on those too and has discounted the Exposure Support Cell 8.7A by 15% and the smaller Exposure Support Cell 1.7A by 10%.
You may have heard the news that Wiggle/Chain Reaction have gone into administration, but the administrators have issued a statement saying that "all operations are running as normal".
Here at Bike Perfect, we're also hunting around the internet looking for the best MTB and off-road cycling deals around. For more top savings, have a look at our Black Friday cycling deals hub.