Best budget MTB deals: Quick Menu
Cyber Monday is live and the internet is awash with Cyber Monday mountain bike deals to entice potential purchases. While there are plenty of impressive deals on premium bikes, there are also plenty of discounts on the best budget full-suspension mountain bikes.
That means there are some staggering deals on some really great and now extremely affordable full-suspension mountain bikes. Many beginner or entry-level mountain bikers choose to ride hardtails as they offer a more affordable entry into mountain biking. With these deals, however, you can get a full-suspension mountain bike for much less and open up even more trail riding potential.
We have been on the hunt for the very best budget full-suspension mountain bikes that have been discounted and compiled the best options to get a great full-suspension mountain bike for the lowest price possible. With such great deals, these bikes are unlikely to hang around for long so snap them up while they are still available.
We also have an e-MTB deal page which we have been updating daily if you're looking for something to help you get to the top. And if you're looking for a smaller-sized bike to perhaps stick under the Christmas tree, then our best Cyber Monday kid's MTB deals article is for you.
Recent updates
Deals checked 11:18 Monday Nov 27th
Quick links US
Quick links UK
Best US budget MTB deals
1. Norco Fluid FS 3
The Norco Fluid FS 3 has a SRAM SX Eagle 12-speed drivetrain, which for this price in this Cyber Monday deal means you're getting a superbly reliable drivetrain to go along with a gorgeous-looking aluminum frame. The good news for deal hunters this Cyber Monday continues with the rest of the build that has Tektro HD-745 4-piston hydraulic disc brakes, Stans Flow D rims and Vittoria tires. You get plenty of trail calming suspension from RockShox upfront and its 140mm 35 Silver TK fork, that's paired with an equally good 130mm X-Fusion 02 Pro R shock.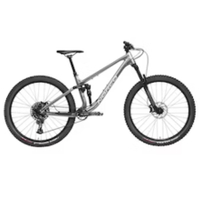 Norco Fluid FS 3: Was $2,499, now $1,898.94 at Jenson USA
We reviewed a previous incarnation of the Norco Fluid FS and gave it top marks, and this latest version is no different coming in superb package with spec that far exceeds this Cyber Monday discount. For its looks alone it's well worth considering but when you dive deeper it becomes a really good budget full suspension MTB offering.
2. Giant Stance 29 2
The Stance 29 2 is an alloy trail bike from Giant is an impressive package for $1,699.99, nevermind that it currently has a 29% Cyber Monday discount meaning you can pick one of these bikes up for just $1,199.95.
Giant are masters of alloy and the Stance features a lightweight, stiff, and durable ALUXX aluminum frame. It uses Giant's FlexPoint Suspension technology to deliver 120mm of travel via a Suntour Raidon R rear shock. Giant produces many of the components as well, including the Crest 34 RCL fork and Giant AM 29 tubeless wheelset. The Maxxis Forecaster tires are fast rolling and you get a dependable Shimano Deore 1x10 drivetrain.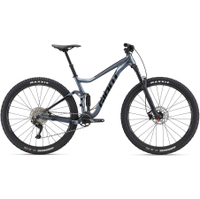 Giant Stance 29 2: Was $1,699.99, now $1,199.95 at Mikes Bikes
Giant Stance 29 2 is an excellent budget trail bike for riding singletrack. Mikes Bikes not only have small to XL sizes discounted by 29%, but you also have a choice of two colors too.
3. Vitus Mythique 29 VR
No budget full-suspension mountain bike list is complete without the Vitus Mythique. Rightfully so as Vitus has put a lot of work into making sure it's not only affordable but also great fun on the trails.
After all, geometry is free and the Mythique has completely up-to-date numbers. Sporting a 65.5-degree head angle, 455mm reach for a medium, and balanced 445mm chainstays means it's more than ready to hit challenging trails. The components are solid as well with X-Fusion Suspension, Shimano 10-Speed groupset, Brand-X Ascend dropper post, WTB wheels, and Maxxis tires.
If you're looking for a little more performance, the Vitus Mythique 29 VRS has an upgraded spec, a little more travel upfront, and can be had for just $1,499.99 in the Cyber Monday sales.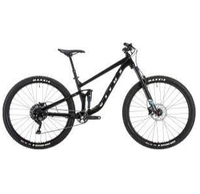 Vitus Mythique 29 VR: Was $1,699, now $1,274.99 at Wiggle
Vitus' Mythique 29 VR is an excellent trail bike that is now available at 25% off. Wiggle has good stock too with sizes between medium and XL, although we expect this bike to sell out quickly.
4. GT Sensor Comp
If you want to shred the trails on a budget you can't go wrong with this GT Sensor Cyber Monday MTB deal from Jenson USA. This 130mm trail bike has some great geometry numbers for aggressive trail riding and comes loaded with a spec to back it up.
The big selling point for us is the 140mm Marzocchi Bomber Z2 fork and Fox DPS Performance shock at the rear delivering smooth bump absorption out on the trail. SRAM SX Eagle, 12-Speed handles the going while the Tektro M745 with 203/180mm rotors takes care of the stopping.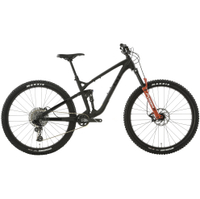 GT Sensor Comp: Was $2,600, now $1,689.99 at Jenson USA
This 35% Cyber Monday discount from Jenson USA means you can hit the trails as hard as you can aboard the GT Sensor Comp for just $1,689.94. It's got great specs and is available in small to XL sizes.
5. Marin Alpine Trail 7
Marin is a brand synonymous with mountain biking and has for over 35 years made some of the most iconic mountain bikes ever made. The Marin Alpine Trail features a RockShox Yari RC fork with 160mm of travel and a 150mm RockShox Deluxe Select+ shock at the rear, built around an aluminum frame with a modern trail bike geometry ready to climb better than ever, and delivers even more confidence when descending.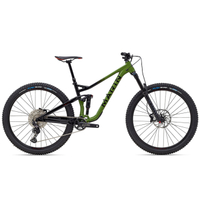 Best UK budget MTB deals
1. Jamis Faultline A1
The Jamis Faultline A1 is an aluminum framed full suspension mountain bike with some excellent spec for the money, especially with this Cyber Monday discount. We gave the Jamis Faultline A1 a decent score on review and some of the stand-out features that caught our eye included the premium paint job, and an excellent set of wheels from Stan's No Tubes.
Elsewhere the top-notch build includes suspension from Rockshox with its Deluxe Select+ RL shock at the rear, and a 35 Gold RL fork up front. Shifting is taken care of by Shimano SLX, 12-spd., and at under £1,000 it's a superbly performing budget suspension MTB option.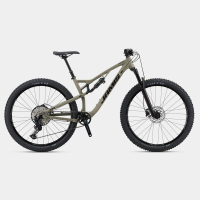 2. Jamis Faultline A2
Another great option for a budget full-suspension MTB is another Jamis, and the Faultline A2. At full price, it's already an impressive deal for this 29er 120mm trail bike, but with a 55% Cyber Monday discount this is a staggering deal. At £799, the Jamis has considerably better specs than most budget hardtail mountain bikes. For the money, you're not only getting RockShox suspension front and rear but also a Shimano groupset and dropper post.
Guy Kesteven reviewed the Jamis Faultline A2 and remarked on its durable spec, efficiency, and reliable suspension. It's not perfect as there are a few geometry oddities however if you're looking for a full-suspension mountain bike you aren't going to find a better deal.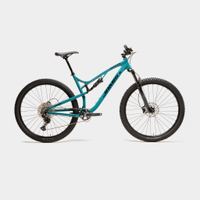 3. Vitus Mythique 29 VR
Vitus Mythique has long been a powerhouse of the budget full-suspension mountain bike market, combining excellent trail performance at a very competitive price. You can now pick up this bike for less than £1000.
Not only does the frame have great riding geometry, but it's also got a good spec that's ready to hit the trails. The VR model comes within 130mm of X-Fusion suspension front and rear and a reliable Shimano Deore 10-speed groupset. If you're looking to progress your riding, the Vitus Mythique 29 VR is an excellent bike to do it on.
If you have a little more budget to play with, Wiggle also has the Vitus Mythique 29 VRS for £1,199.99. We think it's worth the extra money as you get upgraded RockShox suspension and a reliable 1x11 speed Shimano Deore drivetrain.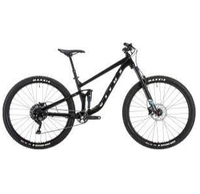 Vitus Mythique 29 VR: Was £1,599.99, now £959.99 at Wiggle
Vitus's Mythique is a budget full-suspension mountain bike that is packed with performance. Wiggle currently has a whopping 40% off so you can currently pick up this bike for less than £1000.
4. Cube Stereo One 22 Pro
Cube only released the new range of One 22 bikes earlier this year but Wiggle has already treated us to a Cyber Monday discount on this downcountry bike. Previously known as the Stereo 120, it features a 130mm fork with a 120mm frame that helps it climb and descend well.
The suspension is a combo of RockShox Judy Silver TK Air fork and a Manitou Radium Expert RL shock. It features a 1x12 Sram NX/SX drivetrain and has Magura MT Thirty to reliably bring the bike to a screeching halt.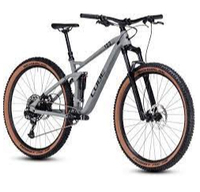 Cube Stereo One 22 Pro: Was £2,099, now £1,300.99 at Wiggle
Cube's One 22 is a downcountry mountain bike with 38% off – plus an extra 10% off the sale price by using the code EXTRA10 at the checkout. This deal is getting snapped up and Wiggle now only has medium and large sizes in stock. This a great option if you're looking for a sub £1,500 full-suspension bike this Cyber Monday.
5. Liv Embolden 29 2
The Liv Embolden is a trail bike built for shredding the trails, it comes with a spec comparable to some of the best full-suspension mountain bikes that includes a trail-taming 120mm of travel at the rear and 130mm up front.
The Liv has an aluminum frame with Shimano Deore transmission and braking, alloy wheels roll on the excellent Maxxis Rekon and Ardent tires, and you even get a dropper post which makes this Cyber Monday deal from Tredz well worth your attention.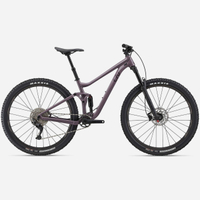 Liv Embolden 29 2: Was £1,999, now £1,459 at Tredz
This is a great deal if you're on the hunt for a full-suspension bike under £1,500 this Cyber Monday. It has for the discounted price an excellent spec built around an aluminium frame. Including plenty of trail-shredding travel, Shimano shifting and braking, and a dropper seatpost. Available in sizes M or L, and the nice looking Purple Ash colorway.
AI Deal Finder
If you're interested in a deal on anything at all, give our AI powered Deal Finder a try. It will search over 250 websites owned by Bike Perfect's parent company, Future, and bring you the best prices available.
Frequently asked questions
Where are the best Cyber Monday mountain bike deals?
We will be regularly updating this Cyber Monday MTB deals article so keep checking back for new deals as we find them. Below are the best mountain bike and tech retailers with the best deals:
US mountain bike deals
Amazon US: Cyber Monday discounts on cycling tech including Garmin devices
Wiggle US: Over 60% off a huge range of bikes and cycling kit
Evo: Celebrating their anniversary with massive discounts
Chain Reaction US: Discounts on hundreds of bikes
Jenson USA: Celebrating 20 years with a huge sale
Mikes Bikes: Savings on bikes, shoes, clothing, helmets, and more
UK mountain bike deals
Amazon UK: Offers on all things cycling plus Garmin devices
Sigma UK: Big savings bikes, shoes, clothing, helmets, and more
Tredz UK: Up to 50% off bikes, shoes, clothing, helmets, and more
Leisure Lakes UK: Massive discounts on Specialized bikes and more
Cycle Store UK: Discounts on hundreds of bikes and clothing
Wiggle UK: Huge discounts across the site Offers on loads of cycling kit
Should I still shop at Wiggle and Chain Reaction?
Yes, we believe so as there are many excellent deals at these two online stores owned by the same parent company. You may have heard the news that Wiggle/Chain Reaction has gone into administration, but the administrators have issued a statement saying that "all operations are running as normal".
How to choose the best budget full-suspension bikes
Does geometry matter?
The only thing you can't upgrade on a mountain bike is the shape of it. Some manufacturers (not the ones featured here) just use old, outdated steep-and-short frames as the basis for their cheap bikes. Others make new frames but weirdly seem to think that the fresh riders likely to be buying at this price point would benefit from something that's twitchy and sketchy rather than stable and confident.
As a rough guide, 120mm travel bikes should have a 67-degree head angle, moving towards 65-degree as travel extends to 150mm and you're getting faster on descents. Reach figures should be 460+mm on a large, with a 50mm or shorter stem and a 760mm or wider bar for decent power steering.
What about suspension?
At the lower end of the price range, you're almost certainly going to take a hit on suspension quality. That means 32mm steel legs rather than 35mm alloy legs on forks and simple rear shocks with limited adjustment and potentially less than perfect damping. You can expect to get equipment from Manitou, Suntour, X-Fusion or own-branded gear rather than RockShox or Marzocchi dampers although you can get them in this list. That doesn't mean that cheaper forks and shocks etc can't work well, but read our reviews to guide you in the right direction and potentially be more prepared to do more servicing and general TLC.
What components should I look for?
The real surprise with this list is how good the rest of the spec on several of these bikes is, with comparable brake and gear setups to hardtail bikes. The days of super long stems and narrow bars ruining the ride are thankfully behind us too and even saddles and grips are generally sorted. The thing you probably won't get and will have to upgrade to is a dropper seat post but make sure that the frame you choose is at least ready for an internally routed setup.
Whether you get a hardtail or a suspension bike, swapping tires is a great way to make real performance gains at a reasonable price. So if you're buying from a shop and have a bit of cash left in your budget then ask if they can swap them (or set the existing ones up tubeless) before you get the original ones dirty.
How much is a good full suspension bike?
It all depends on the type of trails you plan on riding, although almost all of the best budget full-suspension bikes focus on trail riding. Pricing starts at around $1,500 for a bike that is going to give decent performance on the trail. That said it can vary between different brands and the price points they choose.
The amount of extra kit and performance you get on the next bike up in the range – and the price gap – can alter significantly. In some cases, brand managers will sacrifice some profit to create a really killer value entry-level bike. In other cases, it's you who'll be making those sacrifices. It's certainly always worth checking what saving a bit longer or digging deeper into your budget will get you and where relevant we've flagged up whether the 'next bike up' is the better deal here. If you can stretch your budget, check out our pick of the best mountain bikes under $2500.