I've been testing bike and outdoor gear for over 12 years so have been in the very fortunate position of getting my hands on lots of top tech for free. I've tested lots of smartwatches and fitness trackers in that time, including some of the best Garmin smartwatches. And while the latest models are packed with highly impressive mapping and performance measuring tech, I still reach for my own more basic Garmin Instinct smartwatch when I'm not testing something else.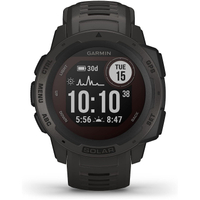 Garmin Instinct Solar: Was £319.99, now £199.99 at Amazon
An incredibly rugged Garmin smartwatch that is now at an excellent price. It may not be as sophisticated as the latest generation of Garmin watches, but it still gives me all the health data and activity tracking info I need.
Price Check: Tredz: £349.99
The Instinct has been around for a few years now, so doesn't have all of Garmin's latest tech, but it's still able to capture all the performance, activity and ride tracking I need. Less complex functionality means a longer battery life and with solar charging, my Instinct can go for several weeks without needing a charge.
With a deep protective bezel and rugged design, it's essentially bombproof too. I've hammered my Instinct in every possible kind of riding situation – from wet and mud covered, to seriously hot and dusty – over a couple of years now and it still looks good and is still going strong. I surf right through the British winter too and years of getting smashed by tons of salty water hasn't affected it either.
The Garmin Instinct Solar is currently available in the UK for £199.99 on Amazon.co.uk – which is 38% off the £319.99 listed RRP. That said, the Garmin site currently lists the Instinct Solar's RRP at £279, but the deal price is still a hefty saving over the Garmin price and is the best price we've seen it at since this time last year.
This deal applies to the UK only, but I've added a price tracker widget below that will give you the best and most up to date prices for the Garmin Instinct Solar wherever you are.
Here at Bike Perfect, we're currently scouring the internet looking for the best MTB and off-road cycling deals around. For more top savings, have a look at our Amazon Prime Day cycling deals hub.