Black Friday is almost here with the big deals weekend kicking off this Friday, the 24th of November, and concluding with Cyber Monday on the 27th of November. The deals are coming thick and fast as the big online cycling retailers are battling for your cash and not waiting around for Black Friday and Cyber Monday.
The Bike Perfect team love a bargain and are always hunting around for the best mountain bike deals. We've found an unlikely source for some of the best Black Friday electric mountain bike deals around at Auto Trader. Yes, you read correctly, Auto Trader now has its own dedicated electric mountain bike website.
With nearly half of British car owners stating they are becoming open to using e-bikes and seeing them as a viable alternative to shorter car journeys, it makes sense for Auto Trader to be listing electric bikes, but having had a browse, using some of these hard-hitting e-MTBs as an alternative to a car journey could be the ultimate example of overkill.
However, there are some incredible Black Friday discounts on superbly specced e-MTBs with some of the best electric MTB motors from recognized brands like Cube, Haibike and Trek, some are packing top-end suspension, carbon frames and some drool-worthy finishing kit with big discounts. I've picked three options below, but it is worth noting these bikes aren't available in lots of sizing and colors options, so if one of the below catches your eye I'd recommend snapping it up quickly. I'd also suggest checking out the huge selection of other Black Friday electric mountain bike deals at Auto Trader, and for specific buying advice, see our best electric mountain bikes and best budget e-MTB articles.
1. Cube Stereo 160 HPC
I've tested a few versions of the Cube Stereo e-MTB including the Cube Stereo Hybrid 140 HPC which is equipped with ABS braking which, for the car geeks reading, delivered incredible confidence-inspiring ABS braking very similar in function and performance to the ABS fitted to cars and motorbikes. This version of the Cube Stereo comes with a massive £1,100 discount and an impressive specification, which makes the price even more appealing. It features Cube's Advanced Twin Mold carbon frame that they say results in a significantly lighter and stronger frame which is built around Bosch's fourth-generation CX drive unit and a high-capacity 750Wh battery. The suspension comes from Fox with a trail-flattening 170mm Kashima fork and is paired with a Kashima coated 160mm rear shock. Kashima coating on Fox suspension is a hard but lubricating anodised coating which is resistant to abrasion and more durable than traditional shock and fork coating, and has the instantly recognizable and desirable golden glow. The impressive build continues with Shimano's XT transmission, which delivers precise, rapid shifts across the range of the 12-speed cassette. Newmen Evolution wheels are shod with the highly rated Schwalbe Magic Mary and Big Betty SuperTrail tires.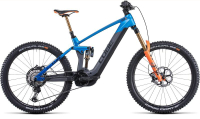 Cube Stereo 160 HPC: Save £1,100 at Auto Trader
Was £6,499, now £5,399
The Cube Stereo Hybrid 160 HPC is a carbon-framed enduro monster featuring 85Nm of torque from the Bosch fourth-generation CX drive unit and a high-capacity 750Wh battery. Featuring race-inspired geometry, Kashima-coated Fox suspension fork with 170mm of travel and 160mm at the rear. It also has a Shimano 12-spd XT drivetrain. I've tested a very similarly specced Cube Stereo e-MTB and loved it, so I reckon this version is well worth checking out.
2. Haibike ALLMTN CF 12
The Haibike ALLMTN CF 12 is also another great buy and very similar to the Haibike AllMtn CF SE reviewed and tested by Graham from the Bike Perfect team. The ALLMTN CF 12 is built around the Yamaha PW-X2 motor system packed with 80Nm of torque ready to blaze up the steepest of climbs, and the high capacity 600Wh Yamaha battery is ready for long rides off the beaten track. The lightweight and stiff carbon frame delivers a premium ride character, and the 160mm RockShox ZEB Charger R fork has a big-hitting performance that is matched with a RockShox, Deluxe Select shock and 160mm of rear travel. The drivetrain and braking come from Shimano and the excellent Shimano Deore XT four-piston brakes, along with a Deore XT drivetrain, giving slick shifting across the entire 12-speed range.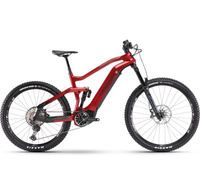 Haibike ALLMTN CF 12: Save £1,700 at Auto Trader
Was £5,999, now £4,299
The Haibike ALLMTN CF 12 is equipped with a Yamaha PW-X2 motor and a 600Wh Yamaha battery. The Haibike is also a carbon-framed e-MTB and features RockShock suspension with 160m of travel front and rear. Shimano Deore XT provides the braking and the 12-spd drivetrain. The excellent build continues with DT Swiss H1900 wheelset in a MX setup – which means a 29-inch wheel up front and a 27.5-inch at the rear. A mixed-wheeled MTB gives a combination of two different wheel sizes in one wheelset with the smooth rolling capability of a larger front wheel and the playfulness of a smaller and lighter rear wheel. This bike has a whopping £1,700 discount and a Red and Black colorway.
3. Trek Powerfly 4
The Trek Powerfly 4 is one of the most affordable electric mountain bikes. in the Trek lineup and the same powerful Bosch Performance CX motor Bosch motor as the brand's more expensive e-bike options. This hardtail e-MTB has a fully integrated 625Wh battery that's fully encased in the frame, and is easily removed without tools. The Powerfly also has an external charging port for easy charging on or off the bike. Specification on this e-MTB is of course lower down the chain than the two more expensive options above, but it still packs plenty punch. The aluminum frame features a Shimano 10-speed transmission and a SR Suntour XCM 32 fork with 100mm of travel. A Bontrager Connection wheelset and Bontrager XR3 tires complete the build. The Powerfly also has Smart Wheel Sizing which means riders of every size get a great fit - 29-inch wheels on larger frames, and 27.5-inch wheels on smaller-sized frames.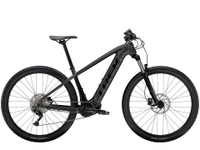 Trek Powerfly 4: Save £956 at Auto Trader
Was £3,550, now £2,594
The Trek Powerfly 4 is equipped with a Bosch CX motor and a 625Wh battery. The Trek is an aluminum framed e-MTB and features a Suntour fork with 100m of travel. Shimano provides the braking and the 10-spd drivetrain. The build continues with a Bontrager wheelset and tires and currently has a £956 discount at Autotrader and is available in Grey colorway.
If an e-MTB isn't on your Black Friday wishlist then head over on our Black Friday mountain bike deals hub, which has a huge selection of the best MTB and off-road cycling deals we can find, from the best mountain bike helmets to components and MTB accessories, that you may want to stock up on, at great prices. Elsewhere if you're looking for cycling tech goodies then you might like to also consider our Black Friday Garmin deals page, packed with the best Garmin deals.