We've tested the Ribble Gravel 725 Pro here before and found it to be a capable off-road cruiser in a 650b format, so how does its fancier titanium cousin compare? If you are unfamiliar with titanium frames, you should check out our guide to bike frame materials, which helps explain the differences. But in a nutshell, it has the same tensile strength as a steel tube but is half the weight so that bikes can be lighter than their ferrous counterparts but still maintain the comfort, flex, and ride properties that a skinny-tubed frame is famed for.
Ribble is a direct-to-consumer brand, so you order from their website, and the bike is shipped to your door instead of using a local bike shop, which has its pros and cons. The company mitigates a lot of the cons by having a very good website, with plenty of advice on sizing and models, as well as a handy customize option that gives you the chance to change out everything apart from the groupset and also add items like custom stem caps, handlebar tape colors, and saddles to help you get the bike you want. As is often the case with online-only retailers, the bike is competitive in price, usually selling at $4,593 / £4,499 / €4,293, but it's now even better with a Black Friday offer that currently means 20% off all Ribble bikes. See more on the Ti deal below...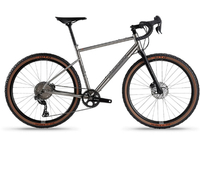 Ribble Gravel Ti - Pro: Save £900 at Ribble
Was £4,499, now £3,599
The Ribble Gravel Ti rides as good as it looks. Featuring a unpainted, brushed-finished titanium frame. It has all the ride qualities you'd expect from a titanium framed gravel bike. Its light, strong and has great vibration-damping properties. The Pro build also has Shimano GRX Di2 electric shifting and a nice £900 discount.
Design and geometry
The well-crafted titanium frame happily deals with a wide gamut of gravel adventures and is available in sizes from XXS to XL. It is not the slackest or the most aggressive and sits in a happy middle ground geometry-wise, perfect for mile after mile of riding. I tested the medium version with a stack height of 584mm and a reach of 397mm; this, combined with the 80mm stem, felt perfect for me straight from the box. I mostly rode without spacers under the stem as Ribble's in-house brand Level handlebar has 20mm of rise built-in, combined with a medium flared drop section. I really liked these. The position on the slightly oval, wide-topped bars and the flare from 40cm at the lever hoods to 51.5cm (center to center) gave a good mix of comfort when upright on the tops whilst still enabling me to get in a more aerodynamically efficient position on the hoods, with more control for technical sections in the drops.
Unusually, it has a relatively high bottom bracket drop of 65mm compared to the more common 70mm, but despite this, it didn't feel overly lofty or nervous at speed. Chainstays are 435mm long, which helps with the bike's stable feel and it can take up to a 45mm wide tire on the rear with 700c wheels. I would have liked to see a touch more clearance to enable the use of proper winter gravel tires and suitable mud clearance, given the exceptionally wet autumn we have had, but for the most part, there's just enough room for the majority of gravel rubber choices.
Unpainted titanium frames have a natural elegance to them, and the Ribble, with its lightly brushed finish and simple graphic on its triple-butted oversized downtube, is a beautiful-looking machine. This is matched with an ovalized top tube and a straight carbon fork with clearance for up to 50mm wide rubber. Ribble has used many of the design cues from the steel version, including the bottom bracket gusset, which, although not the most aesthetically pleasing, creates a stiff and responsive pedaling platform.
It has the now pretty de rigueur dropped seatstays, that not only stiffen up the rear end by making a smaller triangle but also leave more of the seat tube unbraced, which allows the seatpost to flex more, thus improving comfort in the saddle. The welds and finish are top-rate, and although it has plenty of mounting options, it still looks clean and uncluttered.
The bike on test was built with Shimano Di2, but the frame has removable fittings enabling you to run any groupset you wish. True to its adventure intentions, there are many mounting points. From the three bosses on the fork for side-mounted cages to the Bento box mounts on the top tube, mounting points for three bottle cages in the main triangle, suitable mounts for mudguards, and a rack on the rear, it has all bases covered.
Components and build
Several build kits are available via Ribble's website, and I was lucky enough to test the top-of-the-line Pro version with Shimano GRX RX815 Di2 gearing. As expected, the groupset worked flawlessly, with super-smooth, reliable shifts and zero issues throughout testing. I particularly like the shape of the GRX lever hoods, which have a longer flat top section and a more tactile brake lever that feels great and noticeably easier to control when off-road.
It's specced with a single 40-tooth chainring and paired with an 11-42 cassette at the rear, and although shifts were super smooth, I did feel it was over-geared for its intended usage. It was fine on rolling trails and road rides, but I missed out on the lower ratios offered on SRAM gravel groupsets whenever the going got tough or when riding fully loaded with bags and bikepacking kit.
The wheel choice feels a little at odds with the bike. They are perfectly good for road and super smooth gravel use, but I found the 45mm deep carbon Mavic rims too harsh for true off-road rides, and their narrow 19mm inner section combined with a 40mm Schwalbe G-One tire really limited its gravel potential. It is more suited to road and smooth trail use in its current guise. I think the SRAM Rival-equipped version would be better with its wide 10-51 cassette, and thankfully, wheels can be changed when ordering using the customize feature mentioned earlier.
The Pro build is the lightest of the titanium options from Ribble and came in at a respectable 9.9kg. Not crazy light compared to some carbon race offerings, but it is competitive for a versatile metal frame. If so inclined, you could lose a bit of weight replacing the Brooks Cambium C15 saddle, which at first seemed to clash with the rest of the lightweight build, but after a few rides, I grew to appreciate how supremely comfortable it is and forgot all about the extra grams.
Ride, handling and performance
Titanium bike reviews nearly always say the same thing about the majestic ride quality of Ti frames, and this was the first titanium frame I've ridden that actually lives up to the hype. I always found lightweight titanium XC and road frames beautiful to look at, but generally flexy and underwhelming if you needed to put any power down.
The Gravel Ti is no slouch and really responds well to big gear seated efforts, which would normally show any weaknesses in the frame's design. During the test period, there were several occasions where I fitted some road wheels and joined the local chain gang, and although I was surrounded by plenty of the latest aero carbon race machines, I never felt under-biked, a testament to the stiffness and quality of the frame.
Despite this stiffness, it maintained titanium's famed smooth ride quality. It lacks the instant punch of a race-orientated carbon bike but has a strong whippy response that almost feels like it winds up under hard accelerations. This combination of comfort and speed is intoxicating. It's a great partner on longer rides where a bike that's designed for endurance can sometimes mean boring, but that's not the case here.
Verdict
The frame really is fantastic. It has been my go-to choice for a wide range of rides as the combo of comfort and an engaging ride is quite addictive. The quality and finish of the frame deserve a special mention, too. It's up there with the best titanium frames on the market.
The build kit on this particular model was at odds with the riding I generally do, but gravel covers such a broad spectrum that it feels a little harsh to mark it down too much for this – especially considering there are plenty of the build kits available and a high degree of customization is possible on Ribble's own website.
Once I changed the wheels to a more forgiving setup with wider tires, the bike's off-road quality started to show. I even tested it with a Suntour 40mm travel suspension fork, which showed its versatility even further. Titanium bikes are often wrongly called forever bikes, which, given the way bike design and riders' expectations develop, I think is nonsense. But this adaptable, well-made, comfortable, but engaging bike should see you enjoy getting the miles in for years to come.
Test conditions
Surface: Tarmac road to gravel and mud
Trails: Roads, national cycle routes, fire roads, farm tracks, double tracks across moors, singletrack through woods, etc
Weather: Late summer sunshine to 42 degrees F (6 C) muddy winter slogs
Tech specs: Ribble Gravel Ti Pro
Price: $4,593 / £4,499 / €4,293
Frame material: 3AL/2.5V Titanium, Triple Butted, Seamless Welds
Forks: Gravel Ti, Full Carbon, Tapered, Carryall Mounts
Size: XXS-XL
Weight: 9.9kg (medium tested)
Wheel size: 700c
Chainset: Shimano GRX RX810, 1x11 Speed, 40T
Shifters: Shimano GRX Di2 RX815 11-Speed Hydraulic
Rear Derailleur: Shimano GRX Di2 RX817 Shadow RD+
Cassette: Shimano Deore XT M8000, 11-Speed, 11-42T
Brakes: Shimano GRX RX810 Flat Mount Hydraulic
Rotors: Shimano RT70 Center Lock 160mm
Wheels: Mavic Cosmic SL 45 Carbon, 12x100F/12x142R
Tires: Schwalbe G-One Allround TR, 700x40c, Tan Wall
Bars: LEVEL Gravel Riser Flared Alloy, 420/510mm
Stem: LEVEL 3D-Forged 6061 Alloy, Black
Saddle: Brooks Cambium C-15 All-Weather, Black
Color: Raw Titanium
Available from: ribblecycles.co.uk