Ribble has over a century of history when it comes to well-priced road bikes but it hasn't got the same background with mountain bikes. The HT 725 Pro is a Reynolds tubed steel hardtail that certainly looks the part though and it got a lot of attention when it launched. Aimed at the rowdier end of the best hardtail mountain bike market, the skinny tubes and tall geometry make it smooth and easy to pedal on janky ground but confidence reduces when things get rad and pricing is high for a primarily direct-sell brand.
Design and geometry
Reynolds is a premium name in steel tubing and the HT 725 is named after its Chromoly main tubes, which are a heat-treated version of the basic 525 tube set. Ribble has added open-ended gussets under the top and down tubes and put a big saddle gusset above the bottom bracket, too. Parts of the back end are very similar to rear ends we've seen on other bikes with the curved seat stays, neat rod-linked rear brake mount and a drive-side plate to increase tire/crank clearance. You get a cutaway Ribble monogram flat plate brace across the top of the seat stays and they're also overshot past the extended, pipe-braced seat tube. Cable routing is also internal through the main tubes and the shimmed seat post has a front-facing slot to stop mud spray from getting into the frame. The top tube is skinny at 31.8mm external and it's a standard round tube rather than ovalized.
While the rest of the geometry (64-degree head, 74-degree seat, 430mm chainstays and 457mm seat tube) is right according to Ribble's numbers, the measured reach is 20mm shorter than it should be according to Ribble's geometry chart at 453mm on our large sample. According to Ribble "...the reach measurement is taken from the original frame drawing, not from a fully built-up bike..." which would imply that it's running a longer fork than originally intended, but then the angles and bottom bracket height wouldn't be correct. Speaking of the bottom bracket it's also really tall for a hardtail at 320mm (43mm drop).
The default grey can be jazzed up with seven different anodized trim kits and Ribble's Custom Colour for $341 / £299 also offers 33 different main color choices and 33 secondary fade colors ($57 / £50 extra) potentially blended at four different angles and both in either standard gloss, matt ($57 / £50 extra) or glitter ($250 / £220). You can then choose from 19 different 3D decal colors to create a truly personal finish.
Components and build
Componentry is a solid collection with the Pro based mainly around a SRAM Eagle GX group. If you look closely through the cassette is the same super heavy SX block as the $1,823.79 / £1,599 HT 725 Sport. It also means Ribble's inhouse LEVEL wheels use an HG freehub so you're stuck with either SX or NX cassettes in the future. The 30mm rims get top-quality Maxxis triple compound DHF and DHR tires in 27.5 x 2.6in sizing. RockShox's Revelation is a predictable performer through its 150mm travel and our bike was upgraded with a RockShox Reverb post ($N/A / £200 extra), too. Ribble provides the rad ready 800mm bar and 35mm long stem to complement the slack head angle and short offset fork. The full bike comes in at 14.22kg which curiously is 2kg heavier than Ribble claim for its SX build.
Ride, handling and performance
As you'd hope the skinny steel tubes give the Ribble a distinctively smooth ride compared to most alloy and carbon bikes. Add the big tires running low pressures on the broad rims and the Ribble can suck up rough sections in a way that would surprise many short-travel suspension bikes. The 27.5in wheel size accelerates slightly easier than a 29er would and together with the high bottom bracket crank clearance it's a springy, sprightly ride over chunky stuff on the flat or climbs. That's notable because a lot of Reynolds 725 frames we've ridden are actually disappointingly dead.
Unfortunately, that flex and the geometry start to become a downside when things get more technical. On steep climbs, the middling seat angle means you need to slide onto the nose of the saddle to keep the bike balanced. That makes the relatively short reach feel even more cramped and when you're really heaving on the bars you can feel the bike writhing around rather than getting every watt to the back wheel.
While the head angle suggests it can be properly railed, the skinny round-top tube, high ride height and shorter reach make it much harder to push the front end through corners as the front tire feels vague and the whole bike feels perched rather than planted. Being high and forwards on the bike rather than low and centered mean it's also harder to stay on the right side of the bars when you're smacking into bigger chunks on fast, rough descents. While they add pop and a playful feel, the 27.5in wheels are more likely to slide and less likely to skim over holes and hits than the 29er wheels most hardcore hardtail designs are gravitating towards now.
Verdict
Ribble's HT 725 Pro looks both pretty and promising on paper and it's a super smooth, chunk-swallowing cruiser as you'd hope from a steel frame. Start pushing hard though and the tall bottom bracket, short reach, twisty front end and 2.6in wide 27.5in tire make it vague and nervy through corners and throws you forward when you start taking bigger hits through the back end. While the custom paint options are a nice touch and the finish is generally very good, pricing is high compared to other direct sell competitors and not far off our favorite boutique brand builds.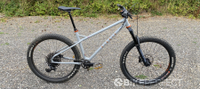 The Ribble HT 725 Pro with its full array of color and component customization is available directly from Ribble.com.
Tech Specs: Ribble HT 725 Pro hardtail
Model name: Ribble HT 725 Pro
Discipline: Trail
Price: $2,508.14 / £2,399
Head angle: 64-degrees
Frame material: Reynolds 725 heat-treated pro mo steel main tubes
Size: Large
Weight: 14.22kg
Wheel size: 27.5 x 2.6in
Suspension: Rock Shox Revelation RC 150mm travel, 44mm offset
Drivetrain: SRAM GX Eagle 12 speed gearing, 32T DUB chainset and shifter, SRAM SX Eagle 11-50T cassette
Cranks: SRAM GX
Brakes: SRAM Guide RE brakes with 180/160mm rotors
Cockpit: LEVEL XV 800x35mm bar and 35x35mm stem
Wheelset: LEVEL 35 wheels
Tires: Maxxis Minion DHF front, DHR rear MaxTerra 3C Exo 27.5 x 2.6in tires
Seatpost: RockShox Reverb dropper post
Saddle: WTB SL8 Pro saddle