Switching to a tubeless setup on your gravel bike or mountain bike is probably one of the most cost-effective upgrades you can make. Although it can be seen as a fairly messy and daunting task to the less mechanically gifted, with the reward of punctures being almost a thing of the past, and the benefits of an overall enhanced riding experience, it's something I recommend to everyone I know who still runs tubes.
With the Amazon Prime Day sales in full swing and having recently written a how to set up tubeless tires feature I had a look around the current Amazon Prime Day deals to see if the products I used were on offered at a reduced price. The good news for anyone contemplating making the switch is that most of the products I used are currently available at a reduced price. So now with the cost of switching even less, is this the time to join the tubeless revolution? You won't look back...
Below is a selection of some of the items I used in the recent article and similar sale priced products including tires, valves, and tubeless sealant. I've added a few recommended extras like rim tape (in case your wheels aren't pre-taped), repair plugs, floor pumps, and air canisters to help seat those sometimes pesky tires.
Tubeless Tires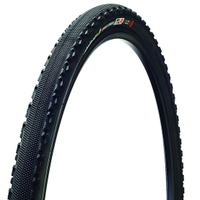 Challenge Gravel Grinder TLR: was $63.99, now $39.99 at Amazon
The Challenge Gravel Grinder is my tire of choice for my best gravel bike riding and is designed with a middle tread for fast rolling on straights, with raised side knobs for confident traction while cornering. Available in both tan and black walls with various sizing options.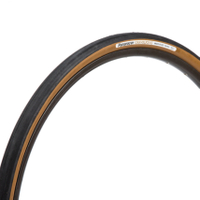 Panaracer GravelKing Slick: was £39.99, now £26.49 at Amazon
The Panaracer GravelKing slick is designed to be a fast gravel tire aimed at riders looking to expand their gravel horizons and venture on to the more rougher side of gravel riding. Various sizes and tan or black walls are available.
Tubeless Valves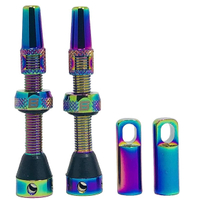 BWSHLF Tubeless Valves: were $19.99, now $15.99 at Amazon
The BWSHLF vales are super light and anti-rust, made of lightweight anodized aluminum, with a removable valve cover, O-ring, and lock nut. These Neon versions are super funky with other colors are available and various sizings also.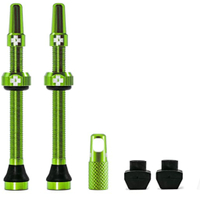 Muc-Off Tubeless Valves: were £24.99, now £19.99 at Amazon
Muc-Off Tubeless Valves come with a 4mm machined Allen key slot for simple installation and an integrated valve core removal tool so that you can easily fill up with tubeless sealant. A variety of colors in ten different eye-popping options allow you can customise your ride to your heart's content.


Tubeless Sealant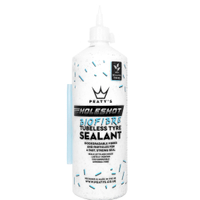 Peaty's Holeshot Biofibre Tubeless Sealant: was £29.99, now £27.06 at Amazon
Peaty's sealant is developed alongside World Cup mechanics and World Champion racers and is packed full of biodegradable fibres and sealing particles to give a fast and strong seal.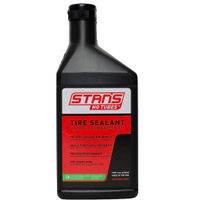 Rim Tape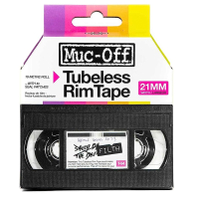 Muc-Off rim tape: was $18.97, now $15.99 at Amazon
Most wheels come pre-taped these days but a good tubeless setup starts with good rim tape. Muc-Off Tubeless Rim Tape is one of the best tubeless rim tapes with pressure-sensitive adhesive, this tape provides the right amount of stretch whilst also ensuring strength and durability to create a lasting airtight seal.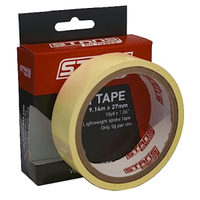 Stan's Notubes rim tape: was £19.00, now £13.80 at Amazon
Stan's Yellow Tape is designed to work with tubeless-ready rims and wheels. Available in various widths Stan's tubeless products are renowned for excellent performance,
Inflation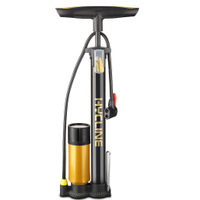 Hycline Floor Pump: was $18.99, now $15.99 at Amazon
A floor pump can be used to inflate tubeless tires and the Hycline is made of seamless steel, which makes it look good but gives a better corrosion resistance. The hose is made of a special high-temperature rubber hose, not easy to break and damage and inflates to a max 160 PSI / 11 Bar, with Schrader and Presta fitting.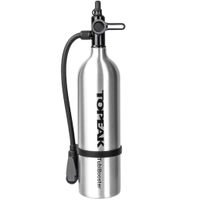 Topeak Tubibooster X Air Canister: was £79.99, now £58.91 at Amazon
Tubeless tires can be occasionally hard to properly seat on wheel rims and one of the best ways if you're having trouble is with an inflation canister. Simply fill the tank that with your floor pump, and then release into the tire so you get one single long consistent blast of air that makes seating tires a breeze.
Tubeless repair kits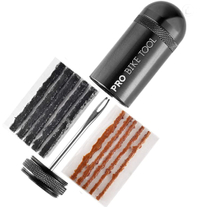 PRO Tubeless Tire Repair: was $21.99, now $16.15 at Amazon
The PRO kit is claimed to fix a hole in seconds. Simply idea 'ram' a rubberised rope plug in the hole from the outside, re-inflate the tire with a bike pump or CO2 inflator, and you're good to go.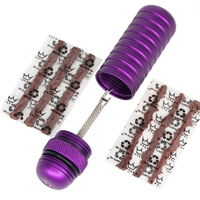 Peaty's Tubeless Repair Kit: was £21.99, now £18.69 at Amazon
Should the worse happen out on the trails a tubeless tire repair kit can save you from a long walk home. The Peaty's kit is designed to make fixing your tire as simple and easy as possible, and available in a host of cool colors.
For more Amazon Prime Day cycling offers, check out our roundup of all the best Amazon Prime Day Garmin deals and Wahoo deals, and our main cycling hub for the best MTB and off-road cycling Prime Day deals.