Cyber Monday mountain bike deals are in full swing and there are some great savings to be found. If you're looking to get a new gravel bike, though, I've spotted a deal that you shouldn't miss.
Earlier this year Vitus launched a gravel bike called the Vitus Venon Evo which impressed me so much that I awarded it top marks in my review. Wiggle has included the very same model in its Cyber Monday sales for both US and UK customers, slashing the price to just $2,699.99 / £1,799.99 – a saving of 27% in the US and 40% in the UK.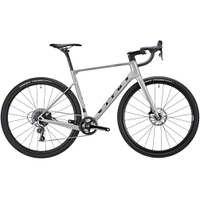 Vitus Venon EVO-GR Rival gravel bike
US: Was $3,699.99, now $2,699.99
UK: Was £2,999.99, now £1,799.99
The carbon-framed Vitus Venon EVO-GR is a fast yet versatile all-road / gravel bike that combines aerodynamics and comfort. Wiggle currently has all sizes between XS and 2XL discounted but it is now showing limited stock on XS, S and M sizes..

The Venon EVO-GR is a very impressive bike, Vitus has combined an aerodynamic front end with a comfortable rear end and given it enough space to cram a 45mm tire. The result is a bike that's rapid yet rideable on and off-road and can easily hold its own against significantly more expensive gravel race bikes.
In my review, I summed it up by saying, "the Vitus Venon is an all-road bike that finds the perfect balance between off-road gravel racer and on-road tarmac ripper. Tight, direct, and lively ride responses make the Venon EVO an engaging and fun bike on fast, graded gravel surfaces. Low weight means it's a confident climber and the sharp pedal response results in quick acceleration too. This energetic characteristic meant that most of my test rides soon escalated into sprinting up hills for fun and refusing to let up any speed on descents and flat sections."
Although this is the base spec model it doesn't really feel like the build wants for anything as all the parts are proven and reliable kit. The Rival 11-speed never missed a shift or braking point and although the alloy Prime Attiquer wheels are basic, fitted with Michelin Power Gravel tires they roll impressively well and have shrugged off their fair share of rim-to-rock impacts.
This is not a deal to be missed, these bikes sold out almost instantly when they were released so with a discount they are likely to fly off the shelf. You may have heard the news that Wiggle/Chain Reaction has gone into administration, but the administrators have issued a statement saying that "all operations are running as normal".
Here at Bike Perfect, we're also hunting around the internet looking for the best MTB and off-road cycling deals around. For our favorite savings, have a look at our Cyber Monday bike deals hub. We've also curated the best Cyber Monday budget full-suspension bike, Black Friday mountain bike lights and Cyber Monday kid's MTB deals for you.