The Black Friday and Cyber Monday big deals weekend is go, and the offers are coming thick and fast as the big cycling retailers battle for your cash and are dropping big discounts right now, with the deals mayhem running from Friday the 24th of November, through to Monday the 27th.
The Bike Perfect team love a bargain and are always on the hunt for a good Black Friday mountain bike deal to bring you, and as riders it makes it even better when the deals we find are on some of the best mountain bikes, gravel bikes or products we've used, and can recommend through our own riding experience.
I've tested a good few of the Ribble gravel bike range and the renowned UK bike brand has dropped a 20% discount across its entire range of award-winning Gravel, Electric and CGR bikes in their Ribble Black Friday sale. One of the stand-out bikes I've tested this year is the steel-framed Ribble 725 gravel bike, and it currently has a superb £550 discount on a bike I highly recommend.
Another Ribble gravel bike I loved testing, and also recently scored well when reviewed by another member of the Bike Perfect team was the titanium-framed Ribble Gravel Ti, which has a huge £900 discount, and is well worth a look if you fancy the luxury of a titanium framed gravel bike. However, regardless of the frame material chosen you'll be getting a superbly capable gravel bike from Ribble, at a bargain price. So read on below to check out my top recommendations in Steel, Titanium and Carbon. You'll have to be quick though because these offers end on Monday 27th of November.
1. Ribble 725 - Pro
Out of the many bikes I've been lucky enough to ride this year the steel-framed Ribble 725 is one my favorites. The 725 Pro has a Black Friday £550 discount and is available in all sizes from XXS-XL. At full price the Ribble 725 Pro already offered a great spec for the money, especially if you're after a steel-framed bike. The skinny steel frame looks classy and in its Air Force Blue paint job it stands out in the best gravel bike market. I found it super capable, with a really fun off-road performance. The 725 is specced with 650b wheels and big 47mm tires, so it does feel slightly tough on the roads, but it comes alive when you hit the trails delivering a confident ride when things get rough, crossing the line between a gravel bike and a mountain bike.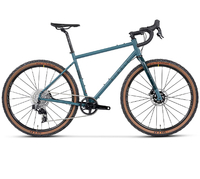 Ribble 725 - Pro: Save £550 at Ribble
Was £2,699, now £2,149
The steel framed 725 rolls on 650b wheels with huge 47mm tires, I found this gravel bike a superbly capable bike with a really fun off-road performance. Specced with SRAM's XPLR eTap AXS 12-spd groupset and a £550 discount.

The build on the Ribble 725 Pro starts with the robust heat-treated Reynolds 725 steel frame paired with a carbon fork. The top-spec build perfectly complements the Reynolds steel frame's sweet and supple ride comfort, and includes the wireless electronic shifting accuracy of SRAM's XPLR eTap AXS 12-spd groupset, Mavic Allroad wheels and big 650b gravel tires. A finishing kit from Level completes a bike that delivers the gravel goods with ease.
2. Ribble Gravel Ti - Pro
Titanium-framed bikes are expensive, but the luxurious material offers a ride quality you just don't get from other materials except steel, with titanium frames still being lighter and stronger than their steel cousins. Titanium also has great vibration-damping properties, giving a smoother ride over uneven surfaces. It's extremely stiff giving improved power transfer and better pedaling efficiency. Titanium doesn't rust either which means brands can produce unpainted, brushed-finished titanium gravel frames which leads me to the Ribble Gravel Ti, currently available in its Pro version build with a £900 discount.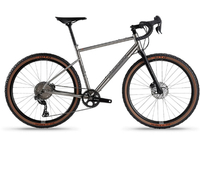 Ribble Gravel Ti - Pro: Save £900 at Ribble
Was £4,499, now £3,599
The Ribble Gravel Ti rides as good as it looks. Featuring a unpainted, brushed-finished titanium frame. It has all the ride qualities you'd expect from a titanium framed gravel bike. Its light, strong and has great vibration-damping properties. The Pro build also has Shimano GRX Di2 electric shifting and a nice £900 discount.
One of the best gravel bikes I've ridden, the Ribble Gravel Ti was a bike I just loved. Its luxurious feel, the timeless looks of the raw titanium frame and the super comfortable ride sent me back had me pining for my Marin titanium bike from the 1990s. The Pro version comes with some serious performance-enhancing upgrades which, like the Stone Edition above, includes the electronic shifting precision of a gravel-optimized Shimano GRX Di2. This build has lightweight Mavic Cosmic SL 45 carbon wheels fitted with Schwalbe G-One Allround tires, and with the capacity to add panniers, bike packs and mudguards, this incredibly durable and versatile has you covered for the best bikepacking adventures.
3. Ribble Gravel SL - Stone Edition
The all-new Stone Collection was just launched in September and this stunning collection features an exclusive and unique series of three custom color hand-painted finishes. Ribble says their Stone Collection has drawn inspiration from rock formations found in the natural world, bedrock and landscapes associated with the best gravel bike adventures and comes in a choice of Marble White, Granite Grey and Slate Black.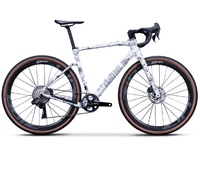 Ribble Gravel SL - Stone Edition: Save £1000 at Ribble
Was £4,999, now £3,999
The Stone Collection is available in the 3 custom color hand-painted finishes, and this carbon framed gravel bike comes with a whopping £1,000 discount and a top spec including electric shifting and Shimano's GRX Di2 drivetrain.

All three paint jobs are available with a £1000 discount and in all sizes from XS-XL. The custom color Gravel SL Stone Edition has a Toray T1000/T800 Full Carbon Monocoque frame, with a top-shelf component line-up. Highlights include the electronic shifting precision of Shimano's GRX Di2 drivetrain and the fast-accelerating, aero-efficient Zipp 303 S wheels wrapped in tubeless-ready Schwalbe G-One tires. A Level 5 carbon integrated cockpit keeps cables fully hidden and protected from the elements, giving a clean, cable-free look while the flared drops deliver maximum stability and steering control.
All these bikes are available now direct from Ribble along with a huge selection of other builds with various discounts. The deals are also available worldwide, check out Ribblecycles.com for all the details.