Black Friday and Cyber Monday is basically happening right now, and even though the biggest shopping weekend of the year is technically still almost two weeks away, it seems none of the big cycling retailers or mountain bike brands are hanging around until then, the race to grab your cash is well and truly on.
Deals are coming constantly across the internet and so you don't miss out, the Bike Perfect team is working hard to drop the biggest discounts and deals as they appear. Our main Black Friday mountain bike deals hub has all the best MTB goodies from bikes to clothing, elsewhere we have a dedicated Black Friday Garmin hub and also a best e-MTB deals page if you're on the hunt for some assisted mountain bike riding. So be sure to bookmark those pages and check in regularly.
An essential piece of kit in my mountain biking arsenal is having the best full-face helmet, they offer the best level of protection for the head when hitting the more gnarly terrains, particularly when riding downhill or enduro, and obviously will keep you much safer if a crash happens.
For Black Friday, Leisure Lakes is offering huge discounts on their range of full-face helmets from many brands, but the ones that caught our eye are from Troy Lee Designs, the legendary mountain bike brands helmets feature immediately recognisable designs and colorways, and TLD are renowned for making superbly performing helmets, packed with safety features. Leisure Lakes has a superb selection of models and colorways to choose from carrying discounts of up to fifty percent.
Below we've selected a few deals that stood out, and if you're in the market for a full-face helmet, this is the time to grab one at hugely discounted prices this Black Friday.
1. Troy Lee Designs Stage MIPS
The Troy Lee Designs Stage with MIPS in the brand's signature Camo Army Green colorway. This not only looks superb but is packed into a lighter, cooler and more protective enduro racing full-face helmet. The Stage combines MIPS (Multi-directional Impact Protection System), EPP (for slow-speed impacts) and EPS (for high-speed impacts) into one sleek package that sets the standard for mountain bike enduro helmets.
Protection benefits also come from the Polylite shell with fiber reinforcement and a polyacrilite injected chin bar with EXOskeleton that adds extra strength but still keeps the helmet fairly lightweight. Cooling is also an important consideration when making a full-face helmet purchase and the TLD Stage has you covered with 11 high-flow air intakes, 14 exhaust ports and large ventilation chin bar openings to aid cooling and comfort in all conditions.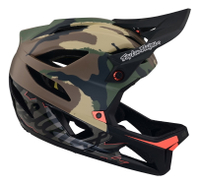 Troy Lee Designs Stage MIPS Helmet: Save £150 at Leisure Lakes
Was £300, now £150
The Troy Lee Designs Stage weighs in at 690g and comes packed with safety features including MIPS, EPP and EPS. It also has plenty high-flow air intakes and exhaust ports with a large ventilation chin bar to keep you cool and comfortable. This stunning signature Camo Army Green version looks very slick and is available sized XS-XXL. If Camo isn't your thing, Leisure Lakes has a huge selection of cool colorways that are also carrying nice discounts for Black Friday.
Price check: Amazon £320

2. Troy Lee Designs D3 Fiberlite
The D3 Fiberlite Full Face Helmet from Troy Lee Designs gives the same maximal protection and the race-proven aerodynamics, comfort and ventilation seen in the top-tier D4 Carbon, but at a lower price point. The D3 is constructed from a lightweight fiberglass shell with wind-tunnel-tested aerodynamic properties and a super-efficient ventilation system. The D3 Fiberlite is a helmet that meets the demands of the best downhill mountain bike riders and is one of the most decorated helmets in professional racing.
The D3 helmet does not have MIPS or any other type of rotational impact protection system, so it's worth considering the other options if the extra safety that MIPS can provide matters to you. It does have a dual-density foam liner, a D-ring chin strap and quick-release cheek pads for emergency helmet removal. The ventilation system consists of 20 high-flow intake ports and six outflow vents, and the D3 features interchangeable and fully washable cheek pads. There is a wide selection of sizing, designs and color options to choose from too.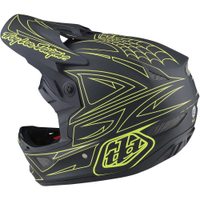 Troy Lee Designs D3 Fiberlite Helmet: Save £125 at Leisure Lakes
Was £250, now £125
The Troy Lee Designs D3 Fiberlite has the same protection and the race-proven aerodynamics, comfort and ventilation as the top of the range TLD D4 Carbon. It's constructed with a fiberglass shell, so weighs more at 1,225g, the D3 doesn't have MIPS either but still has plenty safety protection with a dual-density foam liner. There is a great selection of colors, designs and sizes at Leisure Lakes all with the same 50% discount for Black Friday.
Price check: Troy Lee Designs £187
3. Troy Lee Designs D4 Carbon
The TLD D4 Carbon full-face helmet is the latest in the legendary Troy Lee Designs Daytona series and represents the top-of-the-line in the TLD full-face helmet range. The D4 Carbon has a TeXtreme carbon fiber shell with a spread tow construction that uses straighter fibers than standard carbon fiber. The result TLD says is a thinner laminate that reduces the weight of the helmet but gives a greater rigidness, increased strength, and improved impact tolerance.
The D4 has the MIPS protection system like the TLD Stage plus a collarbone suspension system that is also designed to improve safety by directing pressure away from the collarbone during a crash. As a result, the D4 has the most protective energy system Troy Lee Designs has ever given its riders and has a whole range of certified safety standards.
The D4 also comes in a composite version made from aerospace-grade fiberglass with the same badass looks, protection, and expertise as the D4 Carbon with only a minor weight penalty.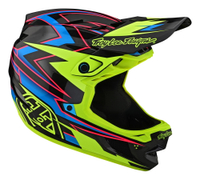 Troy Lee Designs D4 Carbon Helmet: Save £330 at Leisure Lakes
Was £550, now £320
The Troy Lee Designs D4 Carbon is a good as it gets in a full face helmet protection, made with a TeXtreme carbon fiber shell it reduces the weight of the helmet, weighing in at 1000g, but gives it a greater rigidness, increases strength, and improves impact tolerance. The D4 has the MIPS protection system and a collarbone suspension system. Packing a £330 discount in this superb fluorescent colorway at Leisure Lakes the entire D4 range is discounted and includes the slightly cheaper composite version in various colors and sizing.
Price check: Troy Lee Designs £549
Leisure Lakes is currently smashing the Black Friday deals across the site with the Whyte 909 X hardtail MTB, a bike I'm currently riding, packing a £1,501 discount. Elsewhere they have a fine selection of other MTB helmets from Endura and Smith to name a few, and are well worth checking out.
While these offers are for the UK only, we've added our price checker below which will automatically give you the best price on the Troy Lee Design helmets in your territory.