Your mini rippers may have a new bike as their number one pick on their Christmas gift list already and with Mondraker currently offering an unbeatable €200 discount across the range on their Grommy e-MTBs, one of the best children's mountain bikes around, now is the time to grab a pre-christmas deal and have your kid looking the coolest on the trails in the new year.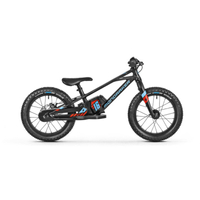 The Grommy range of balance mountain e-MTB's is a top option for kids who are just starting out on two wheels with the range coming in two models: either 12" (3-5 years olds) or 16" (5-8 years olds).
Balance bikes are ideal to help kids develop their essential riding skills and confidence from an early age, mastering the basics of handling and getting involved in the fun without the complicated distraction of pedaling. Along with the little lending hand from its motor with three power modes and a 60-minute battery, the Grommy is a great way to have your child riding in no time.
Featuring the same high standards of design, material and quality you'd expect in a "full size" Mondraker the Grommy features light weight alloy frame and forks. With their own bespoke batteries designed to be really easy and safe to swap over.
To take advantage of this offer and check out the range up close get yourself down to your nearest official Mondraker dealer between the 29th November and the 6th January (while stocks last).
*Discount valid only in the territories of Spain, France, Germany, Andorra, Austria, United Kingdom, Denmark, Netherlands, Sweden, Portugal, Belgium and Luxembourg.