The Garmin Fenix 7X Solar is the jewel in the crown when it comes to the best Garmin smartwatches. For Amazon Prime Day or the newly-named Amazon Prime Big Deals Day, Garmin's top-of-the-line smartwatch, the Fenix 7X Solar is available right now, at the best price we've ever seen of £539.99, which is a whopping 31% discount on the Amazon list price.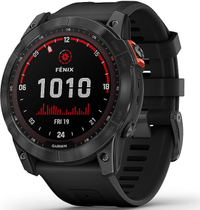 Garmin Fenix 7X Solar: was £779.99, now £539.99 at Amazon
Loaded with the latest technology the Fenix 7X Solar is a seriously high performing smartwatch. A data junkie's dream come true, it gives you all the stats you'll ever need to enhance your training.
Price Check: Garmin £739.99
The Garmin Fenix 7X Solar is without a doubt an incredible watch, that I've been fortunate enough to have tested, and not for just tracking your cycling performance, it does just about everything you could need from a smartwatch. It tracks your fitness across a massive range of sports, even if the sport you require isn't there, you can even add a customized sport. Does anyone remember Kabaddi?
The stats the watch delivers after a bike ride are incredible and if you're like me, picking over the analysis can occasionally take longer than the ride itself. The huge array of data includes elevation gains, speed, stamina, training effect which for an athlete like myself (Editor laughing) is an amazing tool and extremely useful.
The Garmin Fenix 7X Solar also tracks health and wellness monitoring with the wrist-based heart rate sensor, which also measures Pulse Ox, and stress levels and has enhanced sleep tracking, who knew sleep stats could be so addictive.
Out with the excellent fitness tracking the Garmin Fenix 7X Solar, has a plethora of useful tools and apps built-in or available via the Garmin Connect app (which is also excellent) including multiband GPS, barometric altimeters, compass, mapping, and an excellent flashlight, that I use constantly.
Of course, as the name suggests the Garmin Fenix 7X Solar, has solar charging, which in the right conditions adds extra days to the battery life. However, I'm in Scotland, and we don't get a lot of sun, so I'm yet to see any benefits, but the battery life without the solar charging is still outstanding and around a week+ with average use.
This deal applies to the UK only, but I've added a price tracker widget below that will give you the best and most up to date prices for the Garmin Fenix 7X Solar wherever you are.
Here at Bike Perfect, we're also hunting around the internet looking for the best MTB and off-road cycling deals around. For more top savings, have a look at our Amazon Prime Day cycling deals and our Amazon Prime Day Garmin deals hubs.