Ineos Grenadiers will be gearing up for their biggest mountain biking seasons with Olympic gold medalist Tom Pidcock and World Champion Pauline Ferrand-Prevot putting in the final preparations before the first round of the UCI Cross-country World Cup in Nova Measto next weekend.
Podiums for both riders at the Gueret round of the French Cup show the two riders are on form for the first world cup round, especially for Ferrand-Prevot who took the win in her XCO debut for Ineos Grenadiers.
Pinarello has also been hard at work in the run-up the World Cup race season. Up until now, Ineos Grenadiers' sole MTB racer Pidcock has been competing aboard an unbranded BMC Fourstroke as Pinarello doesn't have a cross-country mountain bike in their range.
There have been plenty of rumors that Pinarello has been working on a new bike but it hasn't broken cover, until now.
The eagle eyes at Brujulabike.com first spotted Pidcock and Ferrand-Prevot's new Pinarello and while there are only a few pictures that show the new bike, it's clear that this is most likely a new unreleased Pinarello full-suspension MTB.
Although Pinarello are best known for their road, gravel, and cyclocross bikes, the Italian manufacturer has previously dabbled in XC mountain bikes, although their Dogma XC had little success.
This new bike appears to use very stout square tubing and features a link-driven single-pivot suspension system. We would have expected this suspension layout to offer enough space to run two bottles, as seen on BMC's new Fourstroke, but based on the pictures of Ferrand-Prévot it looks like there is only space for one. The frame features an unusual cross brace just above the bottom bracket which could be used to strengthen and fine-tune the chainstay pivot position.
The handlebar and stem are from Pinarello's in-house component brand, Most, and Pidcock used an unbranded black dropper post.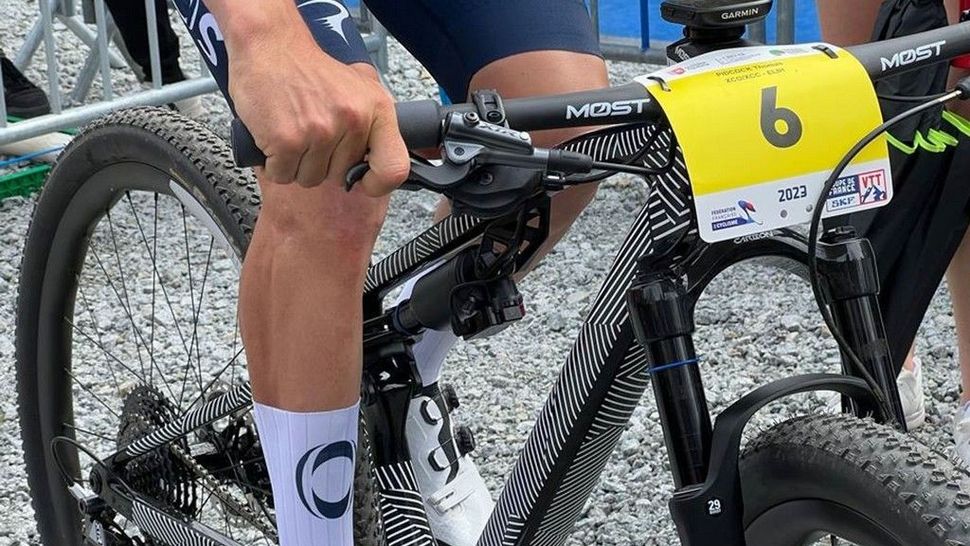 SR Suntour suspension has been fitted to both bikes and based on the mysterious black box on the rear shock, is electronically controlled as well. This suspension system, or a predecessor, has been in development for a while, although details are still scarce regarding how they function. There doesn't appear to be any wiring to the rear shock although there is a cable from the fork which may connect to a handlebar control.
The wheels appear to be from Princeton CarbonWorks, however, the brand doesn't have a MTB wheelset in their range so these must be prototypes that are in development. The wheels were fitted with Continental Race King tires which are some of the best XC tires available and have been used by Pidcock in the past.
Despite many of the components on this bike being unreleased or prototypes, Pidcock appeared to be running a standard mechanical Shimano XTR drivetrain and brakes. No sign of Shimano's new axle-mounted Di2 wireless derailleur yet.
There is currently no word on when the new bike will be officially released, however, we presume that more information, or at least more pictures of the bike, will surface from the Nova Measto World Cup round next weekend.