Etnies is part of the Sole Technology group, a large skateboarder-owned shoe design and distribution company hailing from California, USA. Sole Technology has been the driving force behind some of the most recognisable and best performing skateboarding silhouettes for decades, with a good chunk of them wearing the Etnies logo.
Our testing explained
For information on Bike Perfect's testing procedures and how our scoring system works, see our how we test page.
So what does this have to do with mountain biking? Well, over the last few years Sole Technology and Etnies have used their extensive experience, along with real-world input from riders like Brandon Semenuk and Emil Johansson, to design and manufacture shoes for mountain biking. They've produced a comprehensive range of flat pedal shoes already (such as the Etnies Culvert), but the Camber CL is the brand's first attempt at a clipless mountain bike shoe. Do Etnies have what it takes to break into the extensive clipless market? Keep scrolling as BikePerfect hits the trails to find out.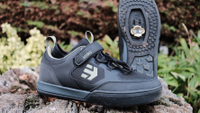 (opens in new tab)
Design and specifications
The Camber CL is designed for Enduro and Downhill genres of MTB, something that's clear from its bulky 'skate style' aesthetic. Don't be fooled, however – the Camber CL does not fall short on tech. The upper is constructed from a lightweight and breathable exo-shield top, which is then further reinforced in vulnerable places like the toe box, heel counter, and inner panels to protect against contact with the crank arms. The entire upper is also repel treated with the aim of preventing moisture from entering the shoe.
Internally the Camber CL gets a System Flo2 compression tongue, which is essentially a Neoprene-style sock liner sewn inside the shoe. Etnies state this is in place to help with temperature regulation and keep debris out. It also features two nylon pull loops on either side to help with foot entry and exit. Everything is kept tight with traditional laces routed asymmetrically through eight substantial eyelets, and there's also a neat elastic lace lock to make sure any loose ends stay away from moving parts. The fit can then be further tuned by an adjustable velcro strap that sits across the top of the tongue.
The Etnies Camber CLs' attention to detail continues to the midsole which utilises STI Evolution foam to provide comfort and damping. Below the midsole is a nylon clipless pedal shank which Etnies claim is optimised for pedalling efficiency and walkability.
The outsole itself uses Etnies' Formula G rubber, which uses a specific compound and tread pattern to try provide grip on and off the bike. The cleat recess is long, which should means there's room to properly push the cleats back to best suit gravity styles of riding.
The Camber CLs hit the scales at 1034g and cost £129.99, which means they're competitive in terms of weight and price when compared to most of the competition. Another positive is that for every pair of shoes sold Etnies will plant a tree, something we're super into here at BikePerfect!
Performance
Right out the box the Etnies Camber CLs have an aura of high-quality craftsmanship, and just by looking at the way everything is stitched and bonded together, it's clear that Etnies have perfected the manufacturing process with this particular shoe. This feeling continues when you first slip through the compression tongue and the size of our UK7.5 sample felt exactly as we'd expect. The toe box was wide enough that the toes can splay comfortably, and the insole supported our relatively neutral arches well.
The cleat recess offers lots of adjustment and set-up options in all directions, but due to it being deeper than most we did have to spend more time than usual playing with cleat spacers and the pin height of our Crank Brothers Mallet DH pedals – we ended up with two spacers beneath the cleat and the pins wound almost flush with the pedal body before we reached a set-up we were happy with. While this is something you should only have to do in the event of getting new cleats or pedals, it still adds faff during the initial set-up phase.
That said, once you're up and running the communication between the sole and the pedal is fantastic, and you can feel the sole shape and tread pattern meshing with the platform-style pedal pins brilliantly. The deeper cleat recess also has an upside on the trail by marginally dropping your centre of gravity. We're not sure if this is something Etnies have done consciously but it's noticeable when riding back-to-back with other brands' shoes. Another neat trait is how the compression sock cuff prevents stray dirt and loam from entering the shoe, although we did notice it made our feet warmer than average on hot days.
Underfoot the Camber CLs are stiff enough to feel like you're not wasting energy when stamping on the pedals, yet offer enough feel to ensure you know exactly what's going on beneath the tire knobs. The same goes for the construction of the upper, so if you're looking for that locked-in secure feel of a shoe like the the Specialized Cliplite might be a better option. Even so, we liked how the slight give of the Etnies reduced the chance of a foot blowing out when things got hectic on trail. The combination of the two characteristics also meant we felt zero pain or fatigue through out feet, even on prolonged rough trails.
Off the bike, the Camber CL's feel good in terms of stiffness when pushing back up sections of trail, but we'd like to see a more aggressive tread over the toe for additional traction in looser conditions.
Due to an unseasonably dry wet spell in the UK we've not been able to test them in the wet yet, but will make sure to update this review with how they fair once the rain returns.
Verdict
The Etnies Camber CLs are a great option for anyone wanting a sorted clipless shoe for gravity riding. Plus we can't help but feel that anyone with history or interest in skateboarding and/or BMX will be proud to sport the Etnies logo in the woods.
Tech specs: Etnies Camber CL
Price: £129.99 / $204.99
Weight: 1,034g
Sizes: UK4 - UK13
Half sizes: Yes
Colors: Black