No matter where you are on your journey with mountain bikes there's always new stuff to add to your gear. You might be just getting started with one of the best mountain bikes for beginners. Or you might be riding one of the best mountain bikes on the market after years of shredding singletrack. Whatever end of the spectrum you are on, the right accessories help you to have the best experience possible.
We put together a list of some of the fundamentals covering the full range of mountain bike accessories. It's a great place to check and see if there's a piece you need to replace. If you are new then it should help you get stocked up and ready to ride. It's also a great list when you need a gift for a holiday, a birthday, or just because. Keep reading to see some of the best options in each category.
The best mountain bike accessories
Why trust BikePerfect Our cycling experts have decades of testing experience. We'll always share our unbiased opinions on bikes and gear. Find out more about how we test.
Trailside Repair
Anytime you head out on the trail you will want to be as self-sufficient as possible. Mountain Biking often means being well off the grid and even if you have mobile phone coverage you probably aren't easily accessible. Even when you've got the best tires, and the best chain, flats and broken links are things that happen when you least expect it. If you aren't prepared that could mean a long walk. On the other hand, when you are properly prepared disaster doesn't even need to be the end of the ride. Get in the habit of carrying everything you might need to handle reasonable repairs when something goes wrong. Use your supplies, fix what you need, and keep enjoying the day.
Anytime you notice a tire going flat, it's a bad day. With tubeless it's a rare occurrence but it certainly happens. Being prepared means multiple levels of backups and the first defense is a plug kit. If the plug kit you have with you is from Dynaplug then you might not be having such a bad day after all. Pull open the container and shove the tip through the puncture then remove it. The insert stays in the tire, the air stops coming out, and if you've done it fast enough you might not even need to do anything but start riding again. Dynaplug is a bit more expensive but it actually works.
As good as the Dynaplug kit is, there are times when it doesn't work. Honestly, most of the time that's because you are trying to use it in the cold when people are waiting for you. Whatever the reason though, the next line of defense is a tube. For most people, most of the time, it's only a backup that never gets used so why cart around a huge tube? Tubolito has a range of tubes that aren't cheap but they are tougher than a standard tube and they pack down smaller than anything else. You can easily fit one into on-bike storage or whatever backpack you might be using.
You never quite know what you'll need when disaster strikes on the trail. There are times you will need some tools. That means choosing the right selection and making sure it's all small enough that it's easy to carry along. Most people choose a 'penknife-style' multitool where different tools open out from a central carrier. The fold-out design often means a fight getting tools into action without the body in the way. Topeak's DX+ mini ratchet set has all the same tools in a much easier to access and use design. If you need something different, or lose one, swapping out the bits is easy.
The Klic pump name comes from the fact that the pull-out hose connects to the pump magnetically. Within the range, there are tons of options for exactly what combination of features you need. Listed here is the Crankbrothers Klic HV Gauge + CO2 option that means you can start with CO2 and see if it works. If not, you can resort to pumping by hand and the fat-shafted HV pump will get big tires up to pressure fast. While pricing is slightly high, little touches like the rotating collar to keep the hose connector clean and a five-year warranty mean you won't regret reaching a bit deeper into your pocket to pay for it.
Helmets
Being prepared is about more than just taking care of the bike. You need to take care of yourself too. Mountain biking can be a rough and tumble business and the right helmet is a necessity. Not every rider needs full body armor but every single rider, in every single situation, needs quality head protection. You want a top-class helmet because even a small bump carries with it a lot of risks. There are great helmets of every style and at every price point and we've got an entire buyers guide covering the best mountain bike helmets available. We've pulled a few out though to get you started.
Rotational impact protection is an important part of modern mountain bike helmets. They help your head to move inside of the helmet and reduce head trauma in a specific type of crash. MIPS is the biggest name in the game but there are a variety of alternatives and 100% have one called Smartshock. With no clear winner in the rotational protection space, you've got to look at other design features to differentiate the best helmets. When it comes to the 100% Altis that means an exceptionally soft interior, great looks, and a price point that offers great value.
The redesigned fourth-generation Specialized Tactic aims to increase and improve airflow for higher-speed enduro and e-bike riders. You can expect it to fit great and give next-level protection for those who are likely to go down hard but don't want to wear a full-face helmet. Slow-speed ventilation isn't great so keep moving fast if you want to stay cool. Don't worry about glasses or goggles though, it plays well with eye protection. It's also got rotational impact protection in the form of the market leader MIPS. With all of the great features, the price is reasonable and the wide distribution network Specialized enjoys means it should be easy to find.
Bontrager has another take on rotational impact protection and they've backed up their technology with independent study. The Virginia Tech test lab, known for helmet research and testing, found that WaveCel's corrugated crumple layer made the Bontrager Blaze the safest MTB helmet around. With the Rally you can get similar tech for a whole lot cheaper. The design isn't exactly the same but you can still expect a secure fit and solid construction. The Rally shares the same 13 vent hardshell and thin EPS foam outer layer as the Blaze, but the corrugated WaveCell doesn't cover the back of the helmet.
Eye Protection
Mountain bike sunglasses are about a lot more than just looking stylish and shielding your eyes from the sun. Those are still important considerations but it's just the start. Your ride could mean days in the bright sun riding across deserts or time deep in the forest where the sun barely breaks through the canopy. In each case you want a great pair of glasses to protect your eyes from the wind and any dirt or mud that might be flying at your face. If an errant branch hits your face, your eyewear is there to keep you safe and when it's raining, they still have to remain fog-free. There's a vast range of options available and we've put together a list of some of the best mountain bike glasses but here's a few to get you started.
The Smith Wildcats are almost goggles. Obviously, the frame edges aren't completely sealed against dirt or rain but when it comes to coverage, they are top-notch. If things get wet, from working hard or the clouds above, the no-slip fit of the nose and temples will keep the Wildcat in place while the smudge and moisture-resistant coating will keep the lenses clear. It's those lenses that are the real star too. The ChromaPop technology adds contrast to the scene and helps obstacles stand out. If you find yourself riding when visibility is low there's an easy system for swapping to the included clear lens option.
When it comes to style, the Bolle Shifter is a love letter to the beginning of mountain bikes when some people used ski goggles. In fact, Bolle styled the Shifter after the iconic Chrono Shield model. Even with its roots in the 1980s though, the Shifter is not devoid of modern technology. Bolle's Phantom NXT technology is one of only two options for those who want the style of mirrored lenses paired with the convenience of photochromic technology. Two different color combinations are available with this lens tech. Choose one of them and you can start the day as the sun is rising and end as it's setting without ever needing to remove your glasses.
Koo is the sunglasses partner for the helmet manufacturer Kask and the Demos are its top of the range off-road focused option. They come with a fixed Zeiss lens that wraps around the face to give better peripheral vision. The lens has vents and the glasses sit away from the face far enough to keep them fog-free, although it does invite the possibility of more dust, bugs or debris getting inside. As you'd expect form a helmet company, the Demos play well with helmets. The thin arms, two-position adjustable ribbed nose pieces, and Megol elastomer strips help them stay in place while also staying out of the way of whatever helmet you are wearing.
Pedals
Of all the things on this list pedals are the one thing you absolutely must make a decision about right away. New bikes don't come with pedals although inexpensive flats can at least get you started right away. From there the choices are expansive to say the least. Different styles of riding call for different solutions and for some people flat pedals will continue to be the best choice. For most riders, the latest evolution of the original Shimano SPD design still sets the standard to beat in terms of cost-effective reliability. There are other takes on the concept though and they are worth checking out. We've put together a couple of choices and if you want to dive deeper then make sure you spend some time with our lists of the best clipless pedals and the best MTB flat pedals.
After issues with early versions of the Candy, the Mallet helped save Crankbrothers' pedal reputation by becoming the gravity footholder of choice for a ton of high-profile riders. The Mallet E uses a slightly smaller platform but all the same adjustable pin and shim features to create an outstanding, fully tuneable lightweight Enduro/hardcore trail pedal. As with all Crankbrothers pedals, the mechanism at the center is the brilliantly simple and effective stainless-steel X-Wing Eggbeater design. That means easy, soft clip-in at all angles, no matter the amount of dirt on your foot.
Shimano's entry-level M520 is ridiculously cheap and is as near to indestructible as you'll find. It might not have the fancy coatings or lighter materials of posher Shimano SPDs, but the actual on-trail operation is indistinguishable. The axles are heavier than the 8mm Allen key shafts on the Shimano M540 and above but it means you can fit and remove them with a garage spanner or an 8mm hex wrench. Spring tension is adjustable, they shrug off rock strikes very well and Shimano cleats last longer than any others, too. The relentless reliability and price of the M520 make it the 'no brainer' cost-effective choice.
DMR has been the granddaddy when it comes to the best MTB flat pedals for decades now. The V11 translates its classic Vault designed specifically for riders who want a bigger platform into a nylon composite body. Along for the ride is also the same unique concave shape that allows your foot to sit deep into the center for supreme grip. Changing materials means a slightly softer ride and less obvious scratch damage as well as a deep reduction in price. Equally at home on an all-mountain or downhill setup, the DMR Vault pedal offers great stability and grip for the bumpiest of trails.
Shoes
Finding the best mountain bike shoes that suit your riding style is as significant as finding the right bike or helmet, yet it's often ignored in favor of other mountain bike upgrades. The right shoes offer a better and more personal fit and will make you faster and more efficient. There's a distinct choice to make though. The mountain bike shoe market splits between clipless shoes or flats. There's no right or wrong decision but riding style and preference are likely to influence the final decision. We've included a few options here and if you want to learn even more, we take a look at the best MTB shoes buyers guide which has all the information to help you make a decision.
Ideal for gravel grinding, cyclo-cross and cross-country mountain biking, the Specialized S-Works Recon is a state-of-the-art shoe. It's exceptionally light at only 270g and the priority is performance over everything else. Despite the focus, Specialized says neither of these attributes has negatively impacted the S-Works Recon's ergonomics. The Body Geometry sole and footbed help to nullify injury by promoting the best possible foot alignment. Off the bike, the Specialized Recons provide excellent grip and support thanks to rubberized inserts. If you think you'll be spending much time hiking with the bike though its worth bearing in mind that these are race shoes and the stiff soles become somewhat uncomfortable in that context.
It's hard to beat the Five Ten Freerider Pro when it comes to comfort and performance. While it doesn't possess the thickest of outsoles, it still delivers impressive pedal feel and grip — the latter coming from the dotted Stealth S1 rubber compound.
The thick upper material offers good ventilation and reinforced protection around the toe and heel area and is relatively easy to keep clean.
The fit is truly superb with laces the primary means of retention. This particular model makes use of a clever lace keeper that holds everything in place to prevent them from eventually coming undone.
Giro's Cylinder features mesh panels, sort of like running shoes, so your feet stay cool and ventilated even in super-hot conditions. A nylon composite material makes up the outsole. That's standard for this price range but it's also a capable option that will work in a lot of situations. Keeping everything secure up top is a Boa dial paired with a lower velcro strap. These shoes are a solid option for all-around riding, whether that's XC, light trail riding, gravel or even cyclocross. Off the bike grip is decent, and there are mounting areas for toe spikes. The result is a good entry-level SPD shoe for those looking to start using clipless shoes.
Hydration Options
Any time you are riding you need to stay hydrated. On the road that's pretty simple, grab some water bottles and when you run out look for a refill. When it comes to mountain bikes things are a little more complicated because of the wide variety of frame designs. If you can fit a water bottle then we've got a list of some of the Best water bottles for MTB. For those without room, or who want to carry more than just water, then a hydration pack is another great direction to go and we have a list covering the best hydration pack options. If you want to go for something in between then a hip-pack is your answer. They carry less than a larger hydration pack but still have off the bike room for supplies and water. Of course, we have a guide for the best hip-pack options as well. Keep reading to see a few options pulled from each guide or if you want more in-depth check out the relevant guides.
With a massive 20 liters of storage space, the Blackline is a stealthy-looking hydration pack that comes with a spine protector for those who sometimes get a bit too rowdy. The included Lite Shield back protector is made from PV foam and segmented EPS, meeting both the TUB and CE certification standards. The bag is bring-your-own-bladder and will accept up to a 3-liter reservoir. To take advantage of the back protector, the pack fits close to the body but does feature channeling to allow a bit of airflow over your back. Inside the main pocket, there are smaller mesh dividers to separate your gear, and on the rear of the bag there are provisions to carry a half-shell or full-face helmet.
Most hip packs have bottle storage on the sides of the bag however Bontrager has opted to mount the bottle in the middle. There is a good reason for this: by mounting the bottle in the middle gives it support from both sides. The two pockets on either side offer storage, on the right there's a phone sleeve and key fob, and on the left a mesh pocket for gear. Bontrager says that the pockets are large enough to fit any type of tube including fat bike tubes. This isn't a carry everything pack but when you want to travel fast and light it's comfortable and balanced.
Most of the time when your local shop has a bottle it's a Specialized Purist bottle. They are everywhere and people rarely think much about them but they are actually marvels of technology. The inside of the bottle has an ultrathin silica coating that keeps anything from sticking. That means no mold, no bacteria, and no leftover sports drink. All it takes is a bit of soap and water to get everything clean and it really does work to keep mold from forming. It also keeps the plastic taste separate from your water. The MoFlo valve design isn't self-sealing but it does make it easy to drink from.
Clothing
The whole field of clothing is way too big to tackle in a small overview. When you ride a lot there is a huge range of weather you've got to deal with. There's the obvious hot or cold but the more you ride, the more you'll find yourself collecting clothing for every small change in temperature and precipitation. There are also differences in clothing based on the type of mountain bike riding you are enjoying. Downhill riding has wildly different needs from XC racing and you'll need clothes that match the need. Everyone starts somewhere though and a solid warm weather jersey, a great pair of shorts, full finger gloves, and a lightweight jacket will cover a lot of days on the bike. If you want to dive in deeper check out the relevant buyer's guides or keep reading to see a few we pulled out.
The latest Gore C5 short sleeve trail jersey is a massive improvement on the previous version. The material is fast drying, doesn't smell bad, and it's slightly stretchy in case you want to size down for a slimmer fit. Along with the stretch, the multi-panel cut means that mobility isn't an issue, and there's a women's cut version too. Gore has learned from previous lessons and the latest model is a lightweight, tough, hot/fast ride-friendly shirt. The pricing is reasonable for the features and this is the kind of option that can get you started but you'll continue to come back to even as you add more options.
As the name suggests, Morvelo's Rise and Descend are a pair of trail shorts that are designed to take on all riding and get R.A.D. while doing so. Four-way stretch gives the freedom to through shapes while the ripstop fabric wards off tears when it goes wrong. The shorts also get a DWR treatment for when the weather is unpleasant and vents for when the weather is too nice.
Two front pockets give some storage and rear zippered pockets stop your keys and coins from flying out down the trail. Morvelo's Rise and Descend are available in both men's and women's versions. Simple styling means you won't look out of place in the pub after a ride as well.
Troy Lee Designs has been producing some of our favorite, super-thin gloves for a long time. While the range and naming have changed over the years, Troy Lee Designs has stuck to a simple formula of great fit, lightweight and great bar feel.
The uppers use a light mesh and the palm is made from a single layer which is perforated for better hot weather ventilation. If you're looking for some added comfort or extra layers of protection, then these aren't the gloves for you though as there is zero cushioning or armoring on the back of the hand. However, it does mean they are super light and offer a superb, distraction-free bar feel that's perfect for everything from XC to trail riding.
The Trail Series is Specialized's foul weather range of clothing, and this rain jacket is the flagship piece. The brand goes all-out with fabric selection here bringing in Polartec's Neoshell for this jacket. Neoshell is unique in that its membrane mostly consists of air, so hot air can escape much more rapidly than with other materials and jackets.
The cut leads to great protection and coverage, including over the hips, and the jacket features a large enough hood to pull over a helmet. The woven fabric is quieter, softer and tougher than most shells, and the breathability really leads to greater comfort when wet or damp compared to rivals.
At home maintenance
You don't have to put together a bike shop in your home just to start riding. Bike maintenance isn't as hard as it might seem though and if you have the right tools, and a little patience, you'll be able to handle it. If things go really sideways you can always drop your mountain bike off at a shop to get bailed out. On the other hand, if you learn to handle some tasks at home you can free yourself from being at the mercy of busy shops. If you've got a problem, you can fix it right away and get riding again. Not only that but one of the most important parts of bike maintenance is just keeping your bike clean and well adjusted. Simple things you can do after every ride will keep you from ever having to worry about more complicated repairs.
Muc-Off's take on the jet wash isn't all that different from a light-duty unit from your local hardware store requiring both a power and water source. It has a flow rate of 1.7-gallons/6.5-liters per minute and a max pressure of 1450 psi. It comes with three lances, including a low-power head specifically for bikes — Muc-Off is also offering a snow-foam head, which has an inline mount for a bottle of your favorite bike wash which gives your bike a bubble bath. The bundle includes everything you need to keep your bike clean but if you've already got the supplies the pressure washer is available on its own for less money.
Chain lube is a complicated topic and everybody has their favorite option. The WT-1 from WolfTooth components makes things real simple. They have one formulation and it's designed to work in all conditions. There's no need to pick something different for wet days, or dry days, or even when you want something that cleans and conditions. Just shake up the bottle and the BB inside will help mix everything thoroughly. Then apply the lube, back pedal a few times, and wipe the chain clean. After the first ride or two even more dirt will come out and will be easy to wipe away. Right away you'll notice how quiet and smooth your drivetrain is.
If you read our review about this pump there's a lot of discussion about the innovative pump head. It's a friction attachment that lets you remove the valve stem while the tire remains pressurized. It's an amazing feature but it actually plays second fiddle to the real innovation. That title lays with the ability to move 715 cc of air with every stroke when in the high-volume mode. That's enough air to seat a tubeless tire bead without needing to pressurize a tank first. Topeak Joe Blow products are always top quality and last forever. The Topeak Joe Blow Tubi 2Stage tubeless floor pump adds a level of innovation that you don't really see on floor pumps.
Dubbed by many testers as the 'white gold' of tire sealants, Squirt's SEAL tire mixture is fast becoming the go-to remedy for mountain bikers all over the world - especially those who traverse the hostile and often unforgiving trails of marathon stage racing and need fast-acting puncture protection.
Squirt's SEAL sealant is not limited to mountain bike use exclusively but can also be used for road and gravel tires, too. Furthermore, the sealant is compatible with both tubed and tubeless applications and fosters effective puncture-sealing properties.
Available in three bottle sizes - 150ml, 1L and 5L - Squirt caters for all disciplines as well as ensuring each of its products is green and safe for the environment. That said, this particular sealant boasts minimal to zero bioaccumulation.
Topeak may not be the first name that comes to mind when you start searching for tools, but it provides as many options as any other competing brand. In this case, the Prepbox is incredibly well thought out. Instead of just a few Torx wrenches and a combo tool, there's a full set. There's also a nice long socket driver and a torque wrench. The included torque wrench isn't the fanciest, but it does the job very well. Plus, if you do decide to expand your tool collection in future, Topeak has even considered that with more space in an external bag.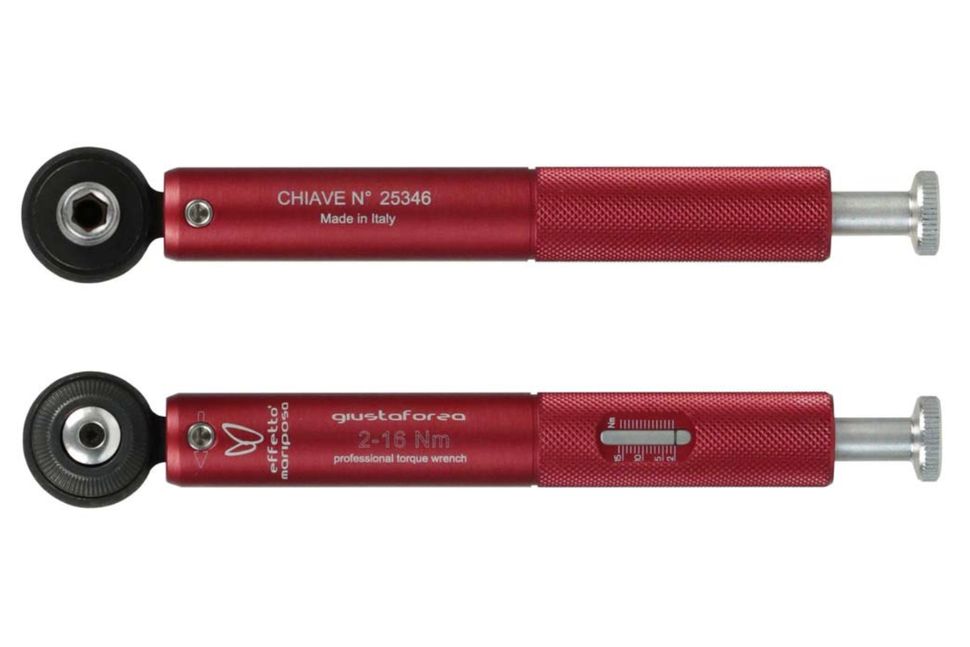 A torque wrench is the kind of thing that's worth buying once. They frequently outlast even the best of the other tools you own and when you reach for one it's because you need absolute precision. Giustaforza torque wrenches are the kind of thing you will enjoy using every single time you touch it. There is a specific guarantee of how accurate their wrenches are and for how long that accuracy will last. Effetto Mariposa checks and numbers each wrench out the door. The Giustaforza 2-16 pro covers the range of torque settings you are likely to need the most often, measuring between 2-16nm.
Even though Park Tool's Team Issue bike work stand isn't dressed entirely in the brand's signature blue, it is the brand's best portable work stand, offering a folding design and a stable three-point platform. The clamp is cam-actuated; the lever flips like a quick release and then spins for fine adjustments. Lined with soft-touch rubber, the jaws can accommodate tubes from ~22mm up to 76mm. For fast repairs, there is enough room to hang the nose of the saddle over the clamp. Using aluminum for the hex-shaped tubing keeps the weight low and it can achieve a clamping height of 152cm. That's plenty of room to easily get in underneath the bottom bracket.