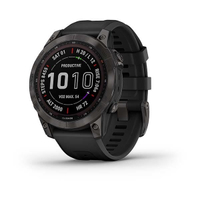 Garmin Fenix 7 smartwatch, save $100 at Amazon
Was $699.99, now $599.99
Loaded with the latest state-of-the-art technology the Fenix 7 is a high performing smartwatch option for athletes seeking serious data and the highest level of GPS accuracy.
If you're looking for a great Black Friday cycling deal on what is probably the best smartwatch money can buy, then you're in the right place.
Brimming with training tools, the Garmin Fenix 7 will accurately guide you through current fitness levels, forecast the best work and recovery balance for on-going training plans and ensure you're on target for those future goals and events. It not just it's data that's accurate either, the Fenix 7 excels on the navigation front thanks to it's multi-band GPS and TracBack functions.
Where the Fenix 7 also benefits massively over it's predecessors is with the all-new touch screen which adds easy of use to the comprehensive functionality. Battery life isn't a worry either and even with heavy GPS usage, the Fenix 7 will remain running for days. One thing that hasn't changed though is the Fenix's durability, and the Fenix 7 is the riding companion to buy if you're tough on gear.
This is the first time we've seen a Garmin Fenix 7 at a deal price this substantial. If you're interested in this particular model but aren't in the US or would rather not use Amazon, our deal checker below will show you the best prices available on the Garmin Fenix as they happen.
Best mountain bike sales – quick links
If you're looking for more deals, you'll probably be interested in our dedicated Black Friday mountain bike deals article. The main event may not have started in earnest yet, but we've dug around for the best off-road cycling deals already available from across the internet.
If you're specifically looking to upgrade your bike, then our Black Friday mountain bike wheel deals article may well be of interest and we also have a dedicated round-up of all the best Black Friday electric mountain bike deals.