UK retailer Leisure Lakes has dropped some seriously good mountain bike deals this Cyber Monday.
One deal that particularly stood out to me was Specialized's Stumpjumper Expert, which sees its price slashed by a massive 41 percent. That means you can get a top-spec trail bike for just £3,499, down from £6,000.
We previously covered Specialized's current mountain bike sales on the Status 140 and Status 160. They also have the Stumpjumper Expert on sale but this Leisure Lakes Cyber Monday deal blows it out of the water. At the time of writing, all sizes bar S6 are available.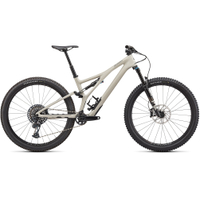 Specialized Stumpjumper Expert: Save £2,500 at Leisure Lakes
Was £6,000, now £3,499
Leisure Lakes has slashed a massive £2,500 off the Expert level Stumpjumper. Specialized Stumpjumper has been the defacto trail bike since mountain bikes inception and this is a staggering deal. The Stumpjumper Expert comes with a top spec from Fox and SRAM, plus it's available in all sizes other than the largest S6 size.
Price check: Specialized.com £4,200
The Specialized Stumpjumper has always impressed us when we've tested previous versions of the Specialized Stumpjumper Expert, so this 2022 Specialized Stumpjumper Expert is sure to be equally fantastic out on the trails.
The 130mm travel fame is built from Specialized's FACT 11m carbon chassis and features all the modern conveniences that you would expect from the best full-suspension mountain bikes.The frame is adjustable using the flip-chip head tube/bottom bracket adjustment and has SWAT Door integration downtube storage. As you would expect from a bike that originally retailed for £6,000, you're getting Fox Performance suspension, SRAM X01 drivetrain, and SRAM G2 RSC brakes.
Just to put into perspective how good this deal is, you're saving so much money you could also buy a Specialized Stumpjumper Evo Comp Alloy (which also currently has a massive 39% off) from Leisure Lakes and still save money on the RRP.
If e-MTBs are more your thing, then head over to our Cyber Monday electric mountain bike deal hub, or maybe you could use some of that money saved to get a new GPS device using one of the Cyber Monday Garmin deals.
While this offer is for the UK only, we've added our price checker below which will automatically give you the best price on the Specialized Stumpjumper Expert Mountain Bike 2022 in your territory.
Tech specs: Specialized Stumpjumper Expert
Frame: Specialized Stumpjumper FACT 11m carbon
Fork: FOX FLOAT 34 Performance Elite 140mm travel
Rear Shock: FOX FLOAT DPS Performance Elite, 130mm
Rear Derailleur: Sram X01 Eagle, 12-speed
Shifters: Sram X01 Eagle, 12-speed
Stem: Specialized Alloy Trail Stem
Bar: Specialized Trail
Crankset: SRAM Descendant 7K
Seatpost: OneUp, Dropper Post-V2
Brakes: SRAM G2 RSC
Wheels: Roval Traverse 29 Alloy
Tires: Specialized Butcher / Specialized Purgatory
Color: White/Gunmetal
Sizes: S1, S2, S3, S4, S5, S6
Here at Bike Perfect, we're trawling the internet looking for the best MTB and off-road cycling deals around. For the best deals we've uncovered, have a look at our Cyber Monday bike deals hub. We've also curated the best Cyber Monday budget full-suspension bikes, Cyber Monday mountain bike lights and Cyber Monday kid's MTB deals for you.