If you're looking for a high-powered headlight amongst the Cyber Monday mountain bike deals, this LifeLine Pavo 2000 model comes with 2000 lumens output - enough to spot your way down the most demanding trail.
A light with this sort of output is usually super-expensive, making it the preserve of the dedicated nighttime trail rider. But with a price tag around $100/£100, the LifeLine Pavo 2000 is cheap enough that it's worth purchasing for the novice nighttime rider or as a backup or booster for your best mountain bike lights.
If you decide to stick to easier riding at night, you can always dial down the Pavo and get exceptional battery life; LifeLine claims over 12 hours at 250 lumens. As well as the four constant modes, there's a flashing mode too with over 16 hours runtime. There's automatic overheat protection that dials down the output if the light starts to get too hot in its higher-powered modes.
The LifeLine Pavo 2000 comes with an aluminum quick-release mount designed to fit 31.8mm or 35mm bars. Wiggle says that it weighs 273g for the light on its own or 313g with the mount and it comes with its own smart charger.
Wiggle's Cyber Monday deal means that the LifeLine Pavo 2000 is priced down from $172.99 to $109.99 in the US for a 36% discount and £129.99 to £89.99 in the UK - that's 30% off.
Cyber Monday LifeLine Pavo 2000 deals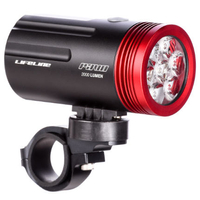 LifeLine Pavo 2000 front light | Up to 36% off at Wiggle
US: $172.99 $109.99 | UK: £129.99 £89.99
Buy the Lifeline Pavo 2000 front light with up to 36% off at Wiggle.
More Cyber Monday deals
If you're after something different, check out our full range of Cyber Monday mountain bike deals on everything from baselayers to full sus electric mountain bikes.
Other Cyber Monday deals
Our deals pages are constantly updated as new offers come up over the Cyber Monday holiday period, so if you're after other mountain biking parts, accessories or clothing browse our other deals pages via the links below.