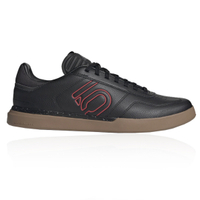 Save up to 63% on Five Ten Mountain Bike Shoes at Jenson USA
Was $120.00, now $59.41
The type of shoes you wear while you're riding has a significant impact on your performance and comfort. With the right shoes, you'll have more control and higher performance compared to wearing regular shoes. Five Ten's are downhill MTB World Cup winners, so perfect for shredding the trails.
If you're looking for a great Cyber Monday deal on Five Ten's, shoes that are regarded as some of the best mountain bike shoes you can buy, then you're in luck.
Right now, you can grab up to 40% discount across the Five Ten range at Jenson USA.
Five Ten are known for producing the best mountain bike shoes with the best rubber for sticking to flat pedals, having researched and tested with mountain bikers to develop a world cup winning shoe.
If you're interested in other shoe brands then check out our Cyber Monday MTB shoe deals article we're also rounding up all the best Cyber Monday clothing deals from around the web, so keep an eye out on our page for updates so you don't miss out.
Where are the best Cyber Monday Five Ten deals?
Lots of retailers are getting involved with the Cyber Monday shoe deals, here are some of the online outlets offering discounts...
Looking for more deals? Then you'll probably be interested in our dedicated Cyber Monday mountain bike deals article, where we've dug around for the best off-road cycling deals already available from across the internet.
If you're specifically looking to upgrade your bike, then our Cyber Monday mountain bike wheel deals article may well be of interest. We also have a dedicated round-up of all the best Cyber Monday electric mountain bike deals, and Cyber Monday MTB helmet deals to help you find those bargains.
And if you're cycling tech if your thing, then check out our dedicated Cyber Monday Garmin deals article.