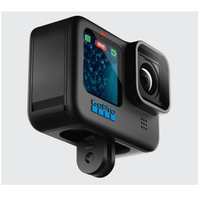 GoPro HERO11 Black, save 36% at GoPro
US: Was $549.98, now $347.98
UK: Was £549.98, now £347.98
The official GoPro site had already cut the price of it's latest flagship camera, but are now chopping another 15% off the RRP for Cyber Monday. This deal also includes a year's GoPro subscription.
We reckon the GoPro Hero11 Black is the best MTB action camera currently available and now you can buy it for less than lower specced rivals in this Cyber Monday GoPro deal.
The official GoPro website is offering 15% off everything for today only, which you can combine with another deal that gives 25% off the Hero11 price when buying a annual GoPro subscription (which gives you an extended warranty, cloud storage and discounts) for $/£49.99.
The net result of these two offers is that you get the Hero11 and a GoPro sub for $/£347.98. For comparison, buying the action camera without the GoPro subscription offer is $/£424.99.
GoPro are offering an even better deal on the Hero11 Black Mini, plus there's loads of other discounts on cameras and gear across their store.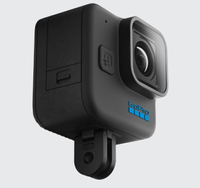 GoPro HERO11 Black Mini, save 42% at GoPro
US: Was $449.98, now $262.48
UK: Was £449.98, now £262.48
The more compact sibling of the Hero11 Black, the Mini version is ideal for shooting POC (point of view) footage. This deal price is dependent on taking out a year's subscription to GoPro .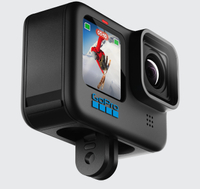 GoPro Hero10 Black, save 32% at GoPro
US: Was $449.99, now $304.98
UK: Was £449.99, now £304.98
No prizes for guessing that the Hero10 Black was GoPro's previous flagship model until the Hero11 knocked it off it's perch. Despite not being quite the latest model, the Hero10 is still a top camera well worthy of your consideration. Like the other offers here, this price requires taking out a GoPro annual subscription.
Where are the best Cyber Monday mountain bike deals?
Essentially all the bike retailers are getting involved with the Cyber Monday mountain bike deals, here are some of the bike retailers already offering discounts.
If you're looking for more deals, you'll probably be interested in our dedicated Cyber Monday mountain bike deals article, where we've dug around for the best off-road cycling deals already available from across the internet.
If you're specifically looking to upgrade your bike, then our Cyber Monday mountain bike wheel deals article may well be of interest. We also have a dedicated round-up of all the best Cyber Monday electric mountain bike deals, and Cyber Monday MTB helmet deals to help you find those bargains.
And if you're after more tech, then check out our dedicated Cyber Monday Garmin deals article.